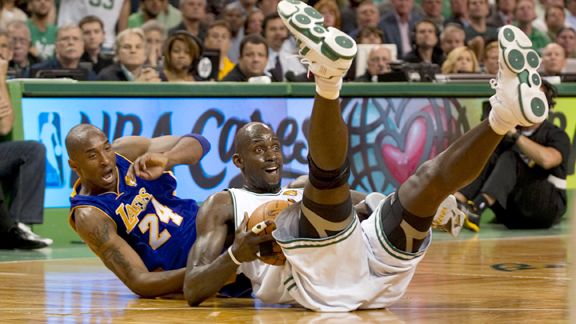 Don Emmert/Getty Images
The Celtics face a pivotal Game 4 Thursday at the TD Garden.BOSTON -- A collection of pregame news and notes before the Boston Celtics host the Los Angeles Lakers in Game 4 of the NBA Finals Thursday night at the TD Garden:


The rundown (a quick look at pregame headlines)
* Perk's glad to see referee Eddie Rush
* Doc on Rasheed: He's feeling a lot better
* Loose Balls: Turning them loose, Bynum's knee
PERK'S GLAD TO SEE REFEREE EDDIE RUSH
Asked before Thursday's Game 4 his thoughts about Eddie F. Rush being part of the officiating crew, Kendrick Perkins smiled broadly and laughed, "Is this a trick question?"
Rush, the official who tagged Perkins with the second of two technical fouls that led to his ejection from Game 5 of the Eastern Conference finals in Orlando, is working Game 4 with Scott Foster and Greg Willard. The NBA later rescinded one of the technicals, which prevented Perkins from being suspended from Game 6, though he still teeters dangerously close to the NBA's postseason limit of seven technicals.
"I'm glad Eddie's reffing today," said Perkins. "He's a good ref to me. I know everybody makes mistakes. That's in the past. I'm glad it came out, it helped us more than it hurt us."
Perkins admits he rarely looks at the referee assignments early in the day, waiting until he takes the court to find out who is working the game.
"I'm not surprised by nobody," he said.
But Perkins did back the idea of the same officiating crew working the entire series. The NBA utilizes a rotating group of 12 officials during the Finals, meaning this is the fourth and final crew the Celtics and Lakers will see for the first time. That leaves both sides wondering what to expect in a series in which officiating has been a hot topic.
"I do wish [the same referees worked the series]," said Perkins. "That makes a huge difference. If you've got the same three refs, you don't have to worry about how they'll call the series, how they'll call each game, or whether each game is going to be close, or if they're going to let you play. If it was the same three refs, you'd pretty much know what they're going to let you do."
DOC ON RASHEED: HE'S FEELING A LOT BETTER
Celtics coach Doc Rivers said Rasheed Wallace's back is feeling better and he actually anticipates ramping up his minutes in Game 4.
"He's fine," said Rivers. "Rasheed is going to be fine. He's feeling a lot better today. We can't worry about it anyway. He'll be fine.
"Just the minutes part of it -- It's not as much his back any more, it's his conditioning. The two weeks or three weeks of literally just playing in games, they catch up to you conditioning-wise. But I think over the last four or five days, he's been running every day, ran [Wednesday], just trying to get his wind back to sustain it more. Rasheed's going to be fine. We anticipate playing him a little bit more tonight, for sure."
LOOSE BALLS: TURNING THEM LOOSE, BYNUM'S KNEE
* Inside the Celtics' locker room, Perkins indicated that, at this stage of the season, with the finish line in sight, no one is holding back, regardless of bumps and bruises. Rivers was asked if it's like a baseball bullpen, getting stretched out for 162 games, then turning the arms loose in the postseason, but Boston's basketball skipper admitted you still have to impose limits.
"It's somewhat like [the bullpen]," said Rivers. "In this game, you can do it more because there's days off. But after this game, you really can't afford to do that any more, even though there will only be three games or two or whatever. You have to be careful because if you use all your guys and then there's a day off and play, then you don't have anything for the next game, at least with our team. We have to be very careful with how we manage our minutes."
* True to his word, Andrew Bynum will suit up and play for the Lakers this evening. The big question is how much coach Phil Jackson can get from him.
"I think he'll give it a shot, and we'll see how it goes from there," said Jackson. "We'll try to get him six, seven minutes at the beginning of the game. He likes to get out there and participate and get the feel of the game. We'll see how he goes from there."
Rivers suggested Boston won't deviate from its game plan because of Bynum's injury and doesn't concern himself with it too much, especially given Lamar Odom's solid play in Game 3.
"No, we're just going to play," said Rivers. "I think the reason you saw Lamar Odom the other night is because he was playing well, and I think it's who's playing better. Same thing with us, with Perk and Baby and Rasheed. There's no difference with them. It's clear when Odom is playing well, they tend to like to finish the game with Odom and Gasol on the floor because it spreads the other team's defense. They like doing that."