Leftover thoughts
June, 11, 2010
6/11/10
11:34
AM ET
Just thinking out loud that the Celtics won a game in which...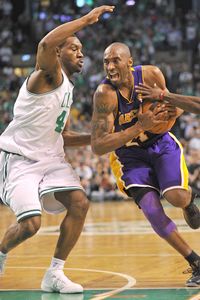 Paul J. Richards/Getty ImagesTony Allen: Defensive stopper?
*
Rajon Rondo
generated a mere three assists (and Boston, as a team, only registered 15 -- they had nearly as many steals with 12). For his career, Rondo has had only two games with less than three assists in the playoffs -- May 10, 2008 vs. the Cavaliers (0 assists, 24 minutes) and June 12, 2008 vs. the Lakers (2 assists, 17 minutes).
*
Kevin Garnett
played a mere 27 minutes and shot just 38.5 percent from the floor.
*
Ray Allen
didn't hit a 3-pointer ... for the second straight game.
*
Paul Pierce
disappeared for pretty much all but the first three minutes of the first and fourth quarters.
*
Rasheed Wallace
and
Tony Allen
combined to produce 2-of-9 shooting with six points over 40 minutes of action.
* The Lakers shot a better percentage from the floor (45.1-44.6 percent).
* Boston endured two fourth-quarter technical fouls, in a frame it trailed to start no less.
*
Kobe Bryant
hit six trifectas and scored over 30 points.
None of that inspires winning basketball on a regular basis, but the Celtics found a way to win Game 4. Maybe that further speaks to what
Glen Davis
and
Nate Robinson
did on the floor.
PODCASTS
Peter King, NFL
Play Podcast Sports Illustrated's Peter King weighs in on the Patriots' offensive line, the outlook for New England, Jim Harbaugh's relationship with his team and the Cowboys' success.
Opening Rant, 9/30
Play Podcast Colin Cowherd shares his thoughts on the state of the Patriots, New England's offense and Brady Hoke's future at Michigan.
First Take
Play Podcast Skip Bayless & Stephen A. Smith debate if the Patriots dynasty is over, if the 49ers have stopped listen to Jim Harbaugh and more. Plus, they make their World Series predictions.