Just thinking out loud that the Celtics won a game in which...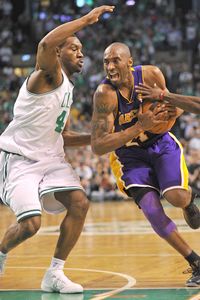 Paul J. Richards/Getty Images
Tony Allen: Defensive stopper?* Rajon Rondo generated a mere three assists (and Boston, as a team, only registered 15 -- they had nearly as many steals with 12). For his career, Rondo has had only two games with less than three assists in the playoffs -- May 10, 2008 vs. the Cavaliers (0 assists, 24 minutes) and June 12, 2008 vs. the Lakers (2 assists, 17 minutes).
* Kevin Garnett played a mere 27 minutes and shot just 38.5 percent from the floor.
* Ray Allen didn't hit a 3-pointer ... for the second straight game.
* Paul Pierce disappeared for pretty much all but the first three minutes of the first and fourth quarters.
* Rasheed Wallace and Tony Allen combined to produce 2-of-9 shooting with six points over 40 minutes of action.
* The Lakers shot a better percentage from the floor (45.1-44.6 percent).
* Boston endured two fourth-quarter technical fouls, in a frame it trailed to start no less.
* Kobe Bryant hit six trifectas and scored over 30 points.
None of that inspires winning basketball on a regular basis, but the Celtics found a way to win Game 4. Maybe that further speaks to what Glen Davis and Nate Robinson did on the floor.