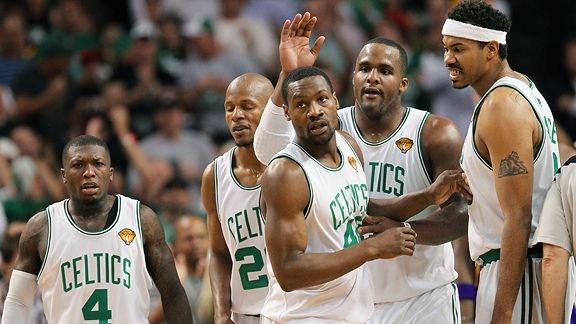 Ronald Martinez/Getty Images
With most of the C's starters looking on, Boston's bench boosted it to a big series-tying win in Game 4.BOSTON -- A handful of links to keep you occupied as we wait for tip-off in Sunday's Game 5 of the NBA Finals:
Broussard: 'It's going to take all of us'
Kevin Garnett has hated it from day one.

Oh, he's gone along with it -- fooling around with various nicknames in an ESPN commercial, posing with Paul Pierce and Ray Allen on magazine covers, sitting for interviews with his two star teammates.

Garnett understands the way the marketing game is played, that somebody has to feed the media beast.

But in his heart, in the Celtics' locker room, on the club's practice court, the team plane, KG has always been anti-Big Three. If you want to throw in Rajon Rondo, then KG is anti-Big Four, or Big Three Plus One, or Rondo and The Big Three, or whatever other terms folks are using these days to separate the best of the Celtics from the rest of the Celtics.

Ever since Garnett joined Boston on that franchise-turning day of July 31, 2007, he's instead been promoting the notion of a Big 15. No class divisions, no separate agendas, no Us and Them.

With their inspirational leader pounding that point home every chance he gets, the Celtics have become the NBA's best example of a true team. Who's going to lead them in scoring? Who knows? Who's going to be their Player of the Game? It's anybody's guess.
Click HERE to read the full story.
* Forsberg: Five keys to Game 5: To understand the magnitude of Sunday's Game 5 of the NBA Finals, you probably don't need any numbers like the winner of Game 5 in a best-of-seven series tied at two games apiece goes on to win the series 83.3 percent of the time (130 of 156). It's pretty obvious that with the Finals down to a best-of-three series, the team that prevails when the Celtics and Lakers clash Sunday night (8 p.m. ET, ABC) at TD Garden is likely to win this series. No guarantee, but, as history supports, quite likely. So here are five things to watch for when the teams lock horns.
* Daily Dime: Rondo's misses put season on the (free throw) line: Celtics point guard Rajon Rondo is struggling at the free throw line and coach Doc Rivers openly wondered if those woes were causing his All-Star guard to be less aggressive going to the rim against the Lakers. After a slow start to the regular season at the charity stripe (38.5 percent through November), Rondo rebounded to shoot 62.1 percent for the season. But his numbers are down for the playoffs, especially in the Finals. Rondo is 4-of-15 (26.7 percent) from the stripe against the Lakers and 67-of-110 (60.9 percent) for the postseason. Ever since Cleveland got rough with Rondo early in the Eastern Conference semifinals, his numbers have declined. In Game 1 against the Cavaliers, he produced a 12-for-14 effort at the line, but he has struggled to shoot over 50 percent most nights since then. Could the free throw woes, along with the presence of bigs like Andrew Bynum and Dwight Howard, be affecting his ability -- and, more importantly, his desire -- to go to the basket?
* More Dime: Lakers not goading Perkins, Wallace into T: Through the first four games of the NBA Finals, the Lakers have contended they are above trying to bait Celtics center Kendrick Perkins into his seventh technical foul of this postseason, which would result in an automatic one-game suspension. Now that Rasheed Wallace has joined Perkins on the brink of suspension after picking up his sixth technical foul in Game 4, and with Andrew Bynum's status becoming an eternal question mark, are the Lakers still not looking to push any buttons in Game 5 to weaken Boston's frontline when the series goes back to Los Angeles? "That's not fair play," said Lakers coach Phil Jackson.
Hop to ESPNBoston.com, ESPNLA.com, or our ESPN.com NBA page for much more coverage.