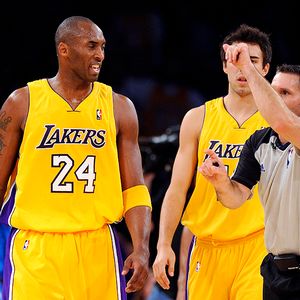 Kevork Djansezian/Getty Images
Monty McCutchen T's up Kobe Bryant.LOS ANGELES -- Monty McCutchen, Joe DeRosa, and Ken Mauer are the officials assigned to referee Game 6 of the NBA Finals Tuesday night at the Staples Center.
McCutchen and Mauer worked Boston's Game 2 victory that featured a series-high 58 whistles, while DeRosa was part of the Game 1 crew that called 54 infractions (and handed out three technical fouls) in a Lakers triumph. Those two games left the referees under heavy scrutiny for impacting the flow of the game.
Since then, and after both coaches moaned about calls, the officials have largely crawled out of the headlines as fouls have dipped over the past three games -- Game 3 (47 total fouls), Game 4 (44), and Game 5 (45). All of which makes those first two games stick out like sore thumbs.
Ray Allen found himself in early foul trouble and was limited for much of the first three quarters in Boston's Game 1 loss. Rasheed Wallace picked up his fifth technical of the postseason that night, while Paul Pierce and Ron Artest drew a double technical just 27 seconds in.
In Game 2, Kevin Garnett sat for extended periods of the first half with foul woes, but the Lakers had their own troubles as Ron Artest fouled out, Lamar Odom got three quick ones and played 15 minutes, and Kobe Bryant got whistled by Mauer for his fifth on a charge early in the fourth quarter, limiting his aggressiveness.
Each team endured 29 infractions in Game 2, but the Lakers shot 41 free throws compared to Boston's 26.