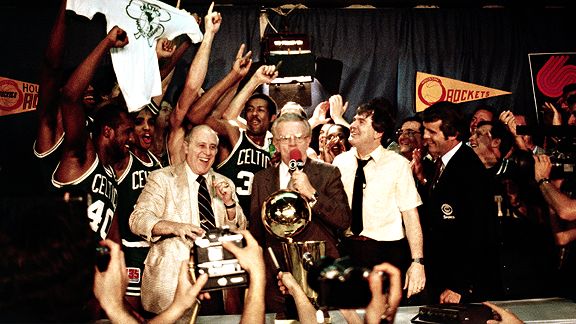 Jim Cummins/Getty Images
The 1981 Celtics celebrate world title No. 14.LOS ANGELES -- The last time the Boston Celtics clinched a world championship on the road, none of the Big Three were even in kindergarten, Marquis Daniels would have been three months old, and Rajon Rondo and Glen Davis wouldn't be born for another five years.
Still playing in the 2-2-1-1-1 format, the Celtics won both Games 5 and 6 against the Houston Rockets to win the series, 4-2. You can relive the final moments through the wonders of YouTube.
Maybe the most notable aspect of Boston's road clinch was the date: May 14, 1981. That's a full month earlier than the drawn-out modern day playoffs.
Interesting to watch the subdued celebration on the court as Boston players, including Larry Bird, rush to the locker room to celebrate. In this age of on-court presentations, it will be interesting to see how it plays out should the Celtics clinch a title in Game 6 or 7 at the Staples Center.