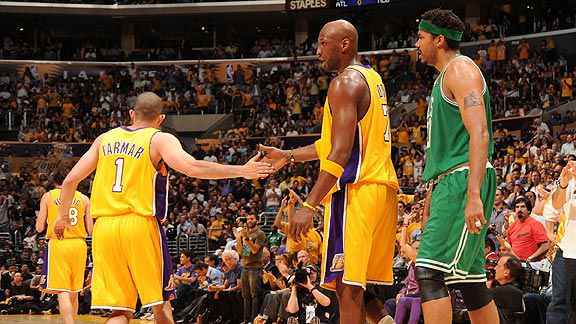 Andrew D. Bernstein/NBAE/Getty Images
Their backs against the ropes, the Lakers came out swinging in Game 6.LOS ANGELES -- Instant reaction after the Los Angeles Lakers posted a 89-67 triumph over the Boston Celtics in Game 6 of the NBA Finals Tuesday night at the Staples Center:
PUNCHED IN THE FACE: Late in the third quarter as the Lakers' lead ballooned to 25, Celtics trainer Eddie Lacerte knelt down in front of Rajon Rondo, working on the injured point guard's chin as if he was some sort of prize fighter between rounds. It was appropriate, because Los Angeles essentially punched Boston -- and quite literally Rondo -- in the face with its back against the ropes. Kobe Bryant scored a game-high 26 points on 9-of-19 shooting, while Pau Gasol flirted with a triple-double (17 points, 13 rebounds, 9 assists). Ray Allen paced Boston with 19 points on 7-of-14 shooting.
KOBE THROWS HAYMAKER; DOWN GOES PERK: The Celtics were up a bucket after a Ray Allen 3-pointer (one that ended his 0-for-18 streak) with 7:35 to play in first quarter, but the Lakers embarked on an 8-0 run sparked by six straight points by Bryant. Unlike in Game 5, the Celtics couldn't answer Bryant's buckets and soon that lead ballooned to double digits. As if Bryant wasn't doing enough damage, Kendrick Perkins landed awkwardly on him and sprained his right knee with 5:30 to play in the quarter, forcing him from the game and leaving him questionable for Thursday's Game 7.
STAT OF THE GAME: The Lakers boasted a 30-13 rebounding advantage at halftime, collecting nine offensive rebounds and generating eight second-chance points before the intermission. Los Angeles finished with a 52-39 advantage on the glass.
UNSUNG HERO: Even in a blowout, which forced Boston's starters onto the floor for much of the game, the Lakers' bench dominated the Celtics' reserves. Boston's bench didn't register a single point over the first three quarters, combining to go 0 for 8 overall. L.A. reserves were 10 of 19 for 24 points over that same three-quarter span and the Lakers led, 76-51, heading to the fourth frame.
SCRAPING C'S OFF CANVAS: The Celtics don't have much time to lick their wounds and must put this one immediately behind them, while bracing themselves for the very real possibility of playing Game 7 without Perkins. Boston has done well at putting games behind them this season, but their resolve will be tested immensely in Game 7, particularly with Los Angeles gaining momentum from this win.