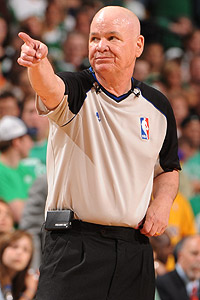 Andrew D. Bernstein/NBAE/Getty Images
Joey Crawford is part of Thursday's Game 7 crew.LOS ANGELES -- The NBA assigned referees Joey Crawford, Dan Crawford, and Scott Foster to work Thursday's Game 7 of the Finals between the Celtics and Lakers.
Considering the pool of potential officials, including lightning rods Bennett Salvatore, Eddie F. Rush, and Bill Kennedy, both teams can probably breath a sigh of relief that, on the surface, this is as innocuous a crew as the NBA could have cobbled together.
According to referee stats kept at NBAStuffer.com, this assignment will make Joey Crawford the most worked official in the postseason. His 76.9 winning percentage for home teams will give pause for Celtics fans, but the breakdown of his fouls suggest he's an equal opportunity distributor (52.4 percent of calls against road team).
Dan Crawford has worked 12 games this postseason, with a home-team winning percentage of 50 percent. The road teams are actually averaging 1.3 more points per game in his assignments. Foster's worked 11 games with the home team winning 63.6 percent of the time, though his stats suggest he's more likely to assign a technical foul to the hosts.
Joey Crawford worked Game 1, Danny Crawford worked Game 3, and Scott Foster worked Game 4. Rasheed Wallace did pick up his two Finals technicals as part of those games. Fortunately for Boston, it won't matter if he reaches the league's threshold of seven this evening.