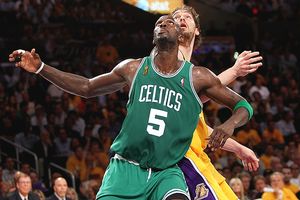 Stephen Dunn/Getty Images
KG has been great in Game 7s.LOS ANGELES -- History suggests Kevin Garnett will be ready for Thursday's Game 7.
Garnett is 3-0 in Game 7s, averaging 21 points, 15 rebounds and two blocks per game. A career 50.2 percent shooter, that number leaps to 53.1 percent (26-for-49) in Game 7s.
Garnett's best Game 7 performance came against Sacramento in 2004, when he registered 32 point, 21 rebounds, 5 blocks and 4 steals over a whopping 46 minutes in an 83-80 triumph on his birthday (May 19). He took 23 shots that night and the Celtics probably wouldn't mind if he put up even more Thursday.
During the 2008 playoffs, Garnett posted 18 points and 11 rebounds over 27 minutes in a Game 7 win over the Hawks, then registered 13 points and 13 rebounds over 42 minutes in a Game 7 triumph over the Cavaliers.
Can Garnett who averaged 29.9 minutes per game this regular season -- the lowest since his rookie year -- and 33.1 minutes per game this postseason ramp up the minutes for this title tilt?
"It's all out," Garnett said. "It's for the marbles, it's for everything, all out. You save nothing, you leave nothing. ... I'm prepared to do whatever [Celtics coach] Doc [Rivers] needs me to do tomorrow in order to win."
Rivers admitted Wednesday he's going to get every last drop out of Garnett.
"It's funny, with Kevin, there's still always a limit with all your players because there's only a limit that they can take and play well," said Rivers. "You know, whatever that number is, I'm going to try to get to that exact number. If it's 40 minutes and still be productive -- let's say if you played him 42 and it took away from being productive, then you're playing him too many minutes. We're going to stretch that to the limit, I can tell you that. I don't know what that number is though."