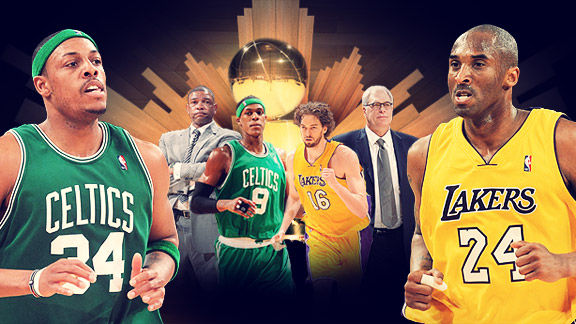 ESPN Illustration
It's Game 7: Celtics vs. LakersLOS ANGELES -- A collection of pregame news and notes before the Boston Celtics visit the Los Angeles Lakers in Game 7 of the NBA Finals Thursday evening at the Staples Center:
The rundown (a quick look at pregame headlines)
* 'Sheed to start in place of injured Perkins
* Perk walks in without crutches; dresses in game shorts
* Loose balls: Rivers and Jackson glimpse to the future
'SHEED TO START IN PLACE OF INJURED PERKINS
Celtics coach Doc Rivers kept the mood light before Thursday's epic Game 7 showdown.
Asked the reasoning behind starting Rasheed Wallace in place of injured Kendrick Perkins, Rivers quipped: "He's old. I figured I'd play the oldest guys. I just think it's a good combination with Kevin [Garnett] because of the size, with Bynum's size, I just think it's a better fit for us."
The move is not unexpected. Wallace has provided some physical defense off the bench this series and matches up particularly well with Paul Gasol, which gives the Celtics the option of using Garnett at power forward or center. It also allows Boston to bring Glen Davis off the bench and he'll spend most of his time on the floor opposite Lamar Odom, a matchup the Celtics like more than the Bynum/Gasol combo.
Rivers said the team wouldn't make many changes, even without Perkins.
"We're not going to change a lot," said Rivers. "We could, and if the game dictates that we need to do that, we're ready to do it. Let's just say that we've worked on [going small]. But we're not going to recreate the wheel tonight. We're going to be basically who we've been. Not having Perk we may have to do it a little different, but not much."
Lakers coach Phil Jackson said the Lakers were ready for any matchup the Celtics threw at them. He noted that Bynum will be limited to 10 minutes per half, provided he avoids tweaking his injured right knee any further.
"Andrew, I think, can play 10 minutes per half," said Jackson. "That's kind of what our training staff has said, unless he has a landing or a turn or something that ends up irritating that particular part of his knee that has some loose tissue, and then he gets, of course, lack of function in the muscles. So that could be it. I think it'll all depend on his transition, his ability to get up and down the court."
Jackson noted he wouldn't be surprised to see the Celtics go small at times.
"You try to be prepared," he said. "This team, I think could actually scale down. They played [Nate] Robinson and [Rajon] Rondo together, they could scale down and move down notches, maybe even put [Paul] Pierce at a power forward spot, and Tony Allen at small forward and try to really activate the game. They'll have to play a different type of game tonight than they've played before."
PERK WALKS IN WITHOUT CRUTCHES, DRESSES IN GAME SHORTS
Perkins left reporters wondering if we were about to see a Willis Reed-like moment as he walked into the Staples Center without the aid of crutches, then dressed in his game shorts and warm-up shirt before retreating to the trainer's room, where he underwent treatment until the locker room closed to reporters 45 minutes before tip-off.
Brian Scalabrine soon entered and dressed in full uniform, suggesting he's active for Thursday's game. So unless there's a surprise in store, Perkins is likely to spend the game on the bench in the suit coat and green pinstriped shirt that hung next to his jersey in his locker.
LOOSE BALLS: RIVERS AND JACKSON GLIMPSE TO THE FUTURE
* Jackson on coaching his first Game 7: "I'm keyed up. I mean, I think it's natural to be keyed up. But I think every final game has its own level. But I don't think it's any more than normal about a game that has as much importance as this has."
* Rivers on bouncing back from the emotional loss of Perkins: "We're here and we'll be ready. It is a little emotional losing Perk. He's so important to our team. But he's still in the locker room, he just will not be in uniform. And I think our guys, in some ways, they want to do it for him."
* Jackson was asked about his future and a possible postgame decision, which led to this humorous exchange:
Q. Do the results have any bearing on what your decision will be?
PHIL JACKSON: I won't know that until the night is finished. Then I'll know how I feel about it.
Q. I'm not sure I understand that.
PHIL JACKSON: I'll know after the game is over.
Q. And you'll tell us then?
PHIL JACKSON: No, I won't tell you then, that's for sure. (laughter)
* Rivers on the possible "last roundup" with his team and these players: "You do [think about it], you think about that. I always allow myself to think about that. I don't want to distract [myself], but it could be for some of the players on our team. That's why you want them to do so well.
"It's how they're going to be remembered around here, and so I think that's very important for them. So, yeah, you do allow yourself to think about it, but then you kind of block it out and thinking more about it after the game."