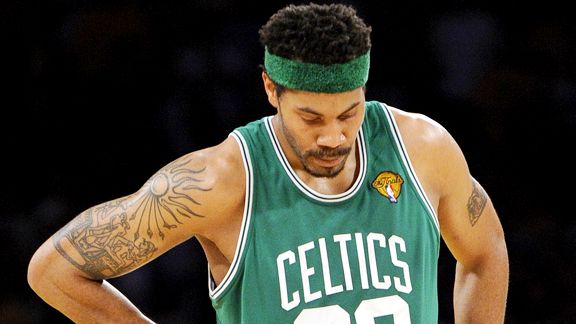 AP Photo/Mark J. Terrill
Was this 'Sheed's final NBA game?LOS ANGELES -- As Celtics coach Doc Rivers sat at the podium suggesting Rasheed Wallace might have played his final game of his career on Thursday, the 15-year veteran stood outside the locker room of the game officials trying to talk to a group which has been intertwined with much of his career.
It wasn't clear if he was trying to discuss the calls that went against Boston in its Game 7 loss to the Lakers in the NBA Finals or just say goodbye to a couple of veteran officials.
Wallace exited the Boston locker room before it opened to the media and navigated his way toward the team bus before diverting to the official's locker room nearby. He managed to open the door and talk with an unidentified person behind the door, before arena and NBA security ushered him back out.
Wallace stuck his head into the locker room and appeared to say, "Danny, I just want to talk," possibly to referee Danny Crawford, but quickly got removed from the room.
Wallace, wearing sunglasses and carrying his gear, waited about five minutes outside the official's locker room guarded by arena security before departing for the team bus without talking to the officials or media nearby.
The veteran forward, who is the NBA all-time leader in technical fouls, did not appear confrontational. While waiting he muttered again about simply wanting to talk and that it was nothing bad.
But security would have no part of it, likely fearing he was angry about the way Game 7 played out.
Click HERE to read the full story.