Draft profile: Gordon Hayward
June, 23, 2010
6/23/10
7:05
AM ET
The eighth in a series of profiles of players that might be of interest to the Boston Celtics during Thursday's NBA Draft:
Did a fantastic NCAA tournament in which he carried Butler to the title game raise Gordon Hayward's stock enough to prevent the Celtics from having a shot at him at No. 19? Probably. But if Hayward starts slipping into the late teens, he's the type of shooter the Celtics would undoubtedly be interested in netting.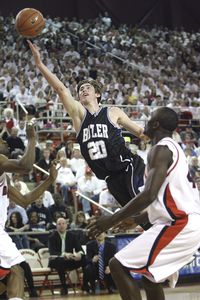 AP Photo/Chuck Burton
From ESPN's Player Evaluation:
Projection:
Late lottery to mid first round
Positives:
Sharp shooter with deep range ... Versatile player who can score in a variety of ways ... Solid rebounder for a wing ... Great size for his position ... Adept at picking up steals
Negative:
Needs to add a lot of strength to his frame ... Isn't an elite athlete ... Lacks great lateral quickness
Ford's analysis:
Back in April, Ford wrote: "Hayward is another hot name who should probably capitalize on his success in the NCAA tournament. While a few savvy GMs had him pegged as a potential lottery pick all year, most have moved him up the draft board much more recently ... Hayward should go somewhere between 10 and 20."
Forsberg's take:
Ranked as Ford's No. 10 prospect in this year's draft and with interest reportedly as high as the Clippers at No. 8, it would seem Hayward has no shot of slipping all the way into Boston's range. But if he does make it to the teens, would the Celtics consider shimmying up a few spots to land him? Such a move could reveal how confident the team is in bringing back Ray Allen next season and how much of a need they feel to land an NBA-ready shooter.
Click
HERE
to view all previous draft profiles.
PODCASTS
Baseball Tonight
Play Podcast Buster Olney and Tim Kurkjian discuss the rosters for the Home Run Derby, Jon Lester's future and more. Plus, Indians P Corey Kluber on his All-Star candidacy and Tigers P Joba Chamberlain.
Baseball Tonight
Play Podcast Buster Olney and Jerry Crasnick discuss All-Star selections and Jeff Samardzija's impact in Oakland. Plus, David Price talks about his season and the prospect of getting traded.
Mike Sando, NFL
Play Podcast ESPN.com's Mike Sando offers his insight on NFL insiders' quarterback rankings, impressions of Robert Griffin III and whether teams prefer Peyton Manning or Tom Brady.