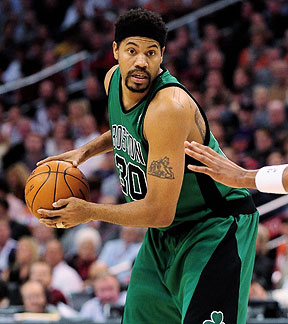 Mark J. Rebilas/US Presswire
Sources suggest Rasheed Wallace is walking away from basketball.ESPN.com's J.A. Adande reports that Rasheed Wallace will retire this summer, according to NBA sources:
Boston Celtics forward Rasheed Wallace will retire this summer, an NBA source said on Thursday.

Wallace will walk away from the final two years and $13 million remaining on his contract and conclude a 15-year career that peaked with an NBA championship with the Detroit Pistons in 2004.

Wallace, 35, scored 15,860 points and grabbed 7,321 rebounds while playing with the Celtics, Pistons, Portland Trail Blazers, Atlanta Hawks and Washington Bullets (as they were known at the time). He had indicated to the Celtics that he was feeling too worn down to continue playing after this season.
Forsberg's quick thoughts: If I'm interpreting the Collective Bargaining Agreement correctly, if Wallace walks away voluntarily, the Celtics not only save his $6.3 million this year (and a total of around $13 million over the next two seasons), but Wallace cannot return to the league for one year's time, meaning he is assuredly done for the 2010-11 season. The one downside for Boston: They don't get an extra mid-level exemption and might need to use that this season to lure a Wallace replacement.