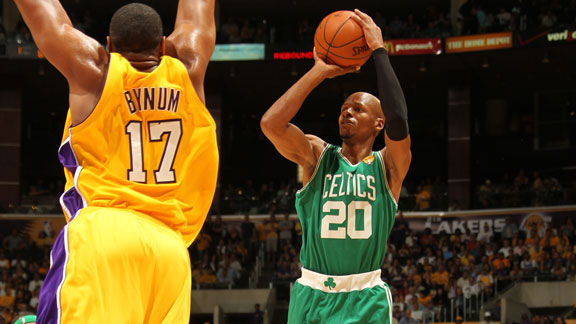 Nathaniel S. Butler/NBAE/Getty Images
What's Ray Allen worth on the free-agent market? We take an in-depth look.Celtics guard Ray Allen in the twilight of his career, but there's always a market for a pure shooter. ESPN Insider Tom Haberstroh examines Allen's free-agent value

:
Ray Allen is the best pure shooter available this offseason and one of the greatest of all time. As long as he stays healthy next season, he could dethrone Reggie Miller as the record holder for the most career 3-point field goals. But at age 35 next season, can he still help a contending team?

Allen offers prolific 3-point shooting, a commodity teams always covet in free agency. Like Miller, Allen creates space to get his shot off by darting around the floor and rubbing shoulders with his screening teammates. All told, he generated 31.6 percent of his scoring plays from off-the-ball screens this past season, topping all NBA starters.

At this stage in his career, Allen almost completely relies on his frontcourt teammates to set strong screens so he can pick off his defenders. In Kendrick Perkins, Rasheed Wallace and Kevin Garnett, the Boston Celtics fielded a murderers' row of screen setters who crushed chasing defenders. But once Allen loses the essential ability to carve up the half court, he's likely finished as a contributor at the NBA level.

"He's showing his age right in front of you," one league exec said. "He's struggling to get where he wants to get athletically."
Click HERE

to read the full story.