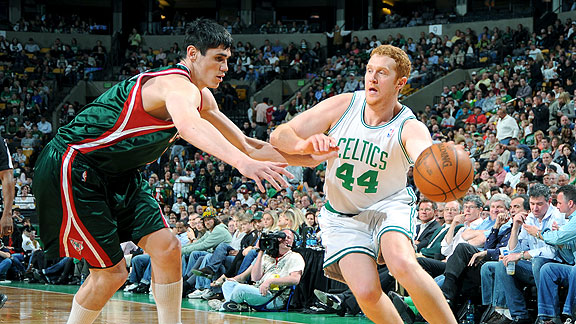 Brian Babineau/NBAE/Getty Images
A fan favorite, the key is expectations with Brian Scalabrine.Over the next few weeks, we'll take a player-by-player look at the 2009-10 roster and how each player's season unfolded, assigning a grade for their overall performance. This is the second in the series of report cards:
Player: Brian Scalabrine
2009-10 averages: 1.5 points, 0.9 rebounds, 0.5 assists
2009-10 salary: $3.41 million
Season in a paragraph: In his ninth NBA season, including his fifth in Boston, Scalabrine appeared in 52 games, logging three starts, while averaging a career-low 9.1 minutes per game. He reached double digits in scoring just once and struggled overall from the field (34.1 percent overall, 32.7 percent from beyond the arc). That said, he remained a serviceable big body who bounced seamlessly from suit coat to starting lineup.
Season highlight: Jan. 11-14, 2010 -- With both Kevin Garnett and Rasheed Wallace sidelined due to injury, Scalabrine got an uptick in playing time and scored 27 of the 78 total points for his season (that's a whopping 34.6 percent of his season output). Scalabrine scored a season-high 11 points over 28 minutes in a 111-87 thumping of New Jersey on Jan. 13.
Season lowlight: Let's allow YouTube to sum things up: Poor Scalabrine provided the worst inbound pass of the season HERE, and was forced to go to the self-clap after being snubbed by Tony Allen and Glen Davis HERE.
Final grade: C
Teacher's notes: Go ahead, call the teacher a hypocrite. We graded Marquis Daniels down Tuesday for slipping into oblivion, but Scalabrine gets a full mark higher for marginal contributions at nearly twice the salary? Fair or not, it's all about expectations with your students. While Scalabrine's stats were down for the year, it's safe to say the Celtics got what they expected from him. He had a role and he performed it to the best of his ability, doing it while battling bone spurs in his right shoulder at the end of the year (delaying surgery in order to be available in a pinch). Sure it was brief and, yes, it was due to Kendrick Perkins' knee injury, but it's telling that Rivers had confidence to utilize Scalabrine in Game 7 of the NBA Finals. Much like Daniels, Scalabrine remained a good teammate throughout it all, never openly complaining about his role and accepting the fact that he logged 18 DNPs over the final 21 games of the regular season, then sat out all postseason games until the Game 7 of the Finals.
What's next?: Scalabrine said Tuesday night his preference remains to return to Boston next season, even as he prepares to navigate the murky free-agent waters starting Thursday. Scalabrine is likely looking at a paycut -- to the tune of the veteran's minimum -- but for a body-starved Celtics squad, that could be a price tag reasonable enough to bring him back in a similar emergency role. Scalabrine remains optimistic about the situation and said if he can't find a job in the NBA next season, he could always go to Europe and play. He's ready for whatever the future holds.
Honor roll: Click HERE to read past report cards.
Don't agree with teacher? Just want to sound off on Scalabrine's 2009-10 season? Click HERE to leave a comment.