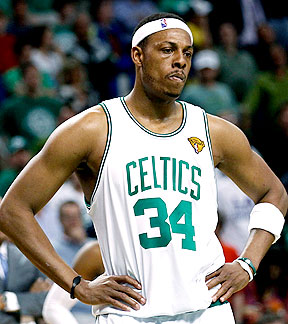 AP Photo/Winslow Townson
It's in the Celtics' best interest to re-sign it's free agents like Paul Pierce.The incomparable Larry Coon, author of the NBA Salary Cap FAQ, takes a look at teams that could potentially offer a free agent a max contract ($16,568,908) this offseason, and sheds light on a lot of myths circulating about who can afford what in this unrestricted bonanza.
Here's Coon's note on the Celtics, with eyes towards what the Green could do if Paul Pierce does not re-sign with the team.
Maximum cap room: 0.61 max contracts

What needs to happen to get to this amount? Paul Pierce has to follow through on opting out of his contract, and the Celtics need to renounce all free agents.

What can they do to get more? They'd have to clear another $6.5 million to get to one MC. If Rasheed Wallace follows through on retirement -- and forgoes his salary -- then the Celtics are less than $1 million away. They could get excruciatingly close -- only about $55,000 away -- by waiving the non-guaranteed contracts of Tony Gaffney and Oliver Lafayette.
Click HERE to read the full Daily Dime.
In a nutshell, the Celtics are not instant players in the free-agent market as Pierce and Ray Allen test the unrestricted waters. The team is still bound to cap holds that amount to more than $40 million, meaning the team is still over the cap. Boston can shed much of those holds and sink $15 million below the cap by renouncing their rights to Pierce and Allen -- essentially ensuring they would not re-sign with Boston.
But the team also needs Wallace to file his retirement directly to the league and leave his $13 million over the next two seasons on the table. While early indications suggested this is the route he'd travel, if his agent pushes him towards a buyout, regardless of how minimal, it will further hinder Boston's ability to land a big-name free agent as any buyout would count against the cap.
What's more, by sinking under the cap and becoming players in the free-agent market, Boston would lose its mid-level exception, which will make it difficult to fill out the end of its roster and build around any max-contract free agent.
Needless to say, it's in the best interest of the Celtics to attempt to re-sign both Pierce and Allen, utilizing their Bird Rights to aid in re-signing the team's own free agents and hoping that a long-term deal with Pierce offers flexibility to add some wiggle room to this year's cap.