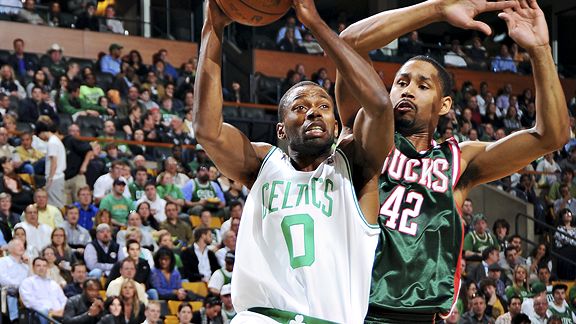 Brian Babineau/NBAE/Getty Images
Oliver Lafayette has been on point at this year's summer league.ORLANDO -- When the Celtics' locker room opened to the media before the team's regular-season finale against the Milwaukee Bucks on April 14, a horde of reporters stationed themselves around Tony Gaffney, one of two late-season roster additions Boston inked that day with eyes toward competing for a spot on the 2010-11 squad.
Gaffney, a native of nearby Berkley, Mass., and a graduate of the University of Massachusetts, had the more intriguing story -- at least locally -- than fellow newcomer Oliver Lafayette, who sat wide-eyed at a neighboring stall and simply soaked in the atmosphere.
But with Gaffney recovering from an ankle injury, it was Lafayette who dressed that night and scored seven points in 22 high-energy minutes. Trouble was, hardly anyone took notice with the Celtics already looking ahead to postseason play.
While neither Gaffney nor Lafayette played during the postseason run that nearly culminated with a world title, it was Gaffney who again understandably drew headlines both locally and nationally for his ties to both the Celtics and Lakers organizations. He was a final cut for Los Angeles in last year's training camp and his perspective having been at both ends of one of sports' top rivalries -- particularly in a season when they met in the title series -- was naturally an endearing storyline.
Once again, Lafayette merely soaked it all in. Sitting patiently on the sidelines at media availabilities, often dribbling a basketball, he quietly went about his business, working with the reserve unit during practice sessions and spending off days with strength and conditioning coaches preparing for the summer.
Finally, a little less than three months after arriving in Boston, Lafayette got a chance to step into the spotlight Monday, and he didn't miss the opportunity.
Click HERE to read the full story.