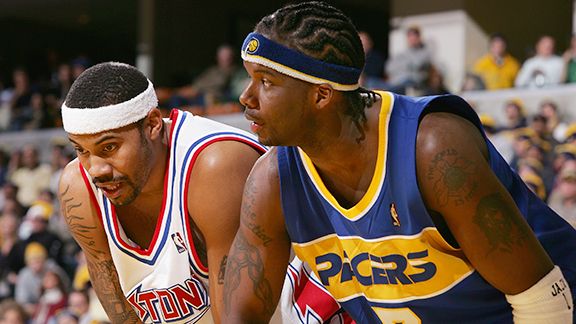 Robert Laberge/Getty Images
Rasheed Wallace and Jermaine O'Neal go back a ways.WALTHAM, Mass. -- When newly inked Jermaine O'Neal was doing his homework on the Boston Celtics, one of the most obvious calls went to Rasheed Wallace.
The pair have been practically inseparable throughout their careers. Drafted one year apart, O'Neal and Wallace were teammates for four seasons in Portland, then spent the better part of six seasons going head-to-head as Indiana and Detroit jockeyed for supremacy in the Central Division.
After Wallace latched on with the Celtics hoping to win a world title last year, O'Neal phoned for his perspective on joining a championship-caliber bandwagon.
"I talked to 'Sheed, I'll see him before I get out of town," O'Neal said Wednesday at his introductory press conference at the Sports Authority Training Center at HealthPoint. "He had a lot of great things to say about the organization. It was kind of a selling point, too, with him coming in and actually being here for a year. He understands the situation, the scenarios, and chemistry is always important. Chemistry could be an issue on any team. That's what Boston has, ahead of everyone, [the Celtics] have chemistry and they know what it takes."
And did O'Neal lobby for Wallace to come back from one more run at a title?
"I shot him a text and told him to come back for at least one more year," said O'Neal. "He didn't respond. I will see him and I'm going to push for him to come back. The more bigs the better. He brings something that a lot of bigs can't bring. When he locks in, he's tough to stop."
Celtics president of basketball operations Danny Ainge later reiterated that the team expects Wallace to retire.