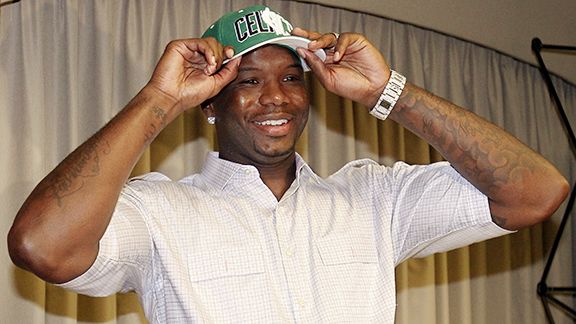 AP Photo/Winslow Townson
Jermaine O'Neal tries on a Boston Celtics' hat.WALTHAM, Mass. -- Jermaine O'Neal essentially had his choice of Big Threes this offseason. But stressing that winning -- and winning right now -- was the most important thing to him at this advanced stage of his career, O'Neal chose to sign with Boston rather than remain in Miami.
"I knew what they were trying to do [in Miami], and I could have re-signed back with those guys," O'Neal said of his former team, which recruited LeBron James and Chris Bosh to join Dwyane Wade this offseason. "It comes down to fit; it comes down to personality and the style of play. Boston has that all for me.
"This was the most important choice that I've made in my career, the first time I've been a free agent in my 14 years. It was very difficult, but over the next two years, I needed to be where it's strictly about winning now and not worrying about chemistry or worrying about anything else. It's just about coming in and helping the team win, being involved in something great.
"I felt like the Celtics have the best team. I had a chance to re-sign back with [Miami], but I thought this was where I was meant to be."
O'Neal passed a physical Wednesday before officially inking a two-year deal to join the Celtics. He will receive the full midlevel exception of $5.85 million this season and earn a total of around $12 million.
Click HERE to read the full story.