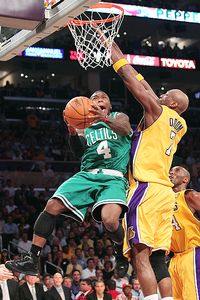 Ronald Martinez/Getty Images
Nate Robinson's play in the NBA Finals helped earn him another stint in Boston.Bringing back Nate Robinson might not have been Plan A for the Boston Celtics. It quickly became Plan B.
While president of basketball operations Danny Ainge suggested early in the offseason that Robinson was one of the free agents Boston had interest in retaining, his value to the Celtics increased exponentially after Tony Allen agreed to a three-year deal with the Memphis Grizzlies earlier this week.
Boston moved quickly to lock up Robinson, agreeing to a reported two-year deal that will pay him around $4 million per season with incentives to drive the value of the deal higher.
Had Boston brought back Allen, likely committing in the neighborhood of the $3 million per season he commanded from Memphis, the team might have sought a low-cost option to serve as a backup to Rajon Rondo and/or provide a scoring punch off the bench.
But when Allen threw the Celtics their first curveball of the offseason, Boston was facing the unenviable task of potentially trying to replace both Robinson and Allen, two key bench contributors by season's end, with only minimum contracts to offer.
Click HERE to read the full story.