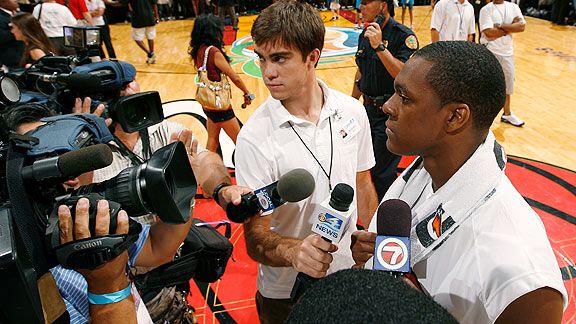 Issac Baldizon/NBAE/Getty Images
Rajon Rondo visited Miami for Dwyane Wade's charity hoop game Sunday.Celtics point guard Rajon Rondo appeared -- but did not play -- in Dwyane Wade's Summer Groove Charity Game Sunday in Miami.
Rondo did use the visit to South Beach to take aim at Wade and his SuperFriends, after the Heat added LeBron James and Chris Bosh (among a growing list of others) with eyes towards loading up for the 2010-11 season (and beyond).
"As far as the East, we're the champs," Rondo said, according to the Palm Beach Post.
He suggested all the chatter about whether Miami is now the team to beat will be settled on the court.
"This is a different group in Miami," said Rondo, according to AOL Fanhouse. "You can't compare the two Big Threes. Only time will tell. It depends on their style of play. Only time will tell how this works out."
Rondo is scheduled to be in Las Vegas Monday as the USA men's basketball team begins preparations for next month's FIBA World Championships in Turkey. Fanhouse notes Rondo was noncommittal when discussing his participation Sunday.
On his Twitter account last week, Rondo previously said, "Playing for Team USA this summer. Looking forward to [representing] our country."