During the slower times during the offseason, we'll occasionally reach into our Celtics Mailbag and pull out a question to field in the blog. Hop HERE to submit a question and keep an eye out for the latest edition of our weekly mailbag.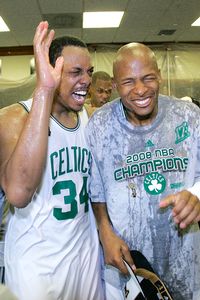 AP Photo/Winslow Townson
Can the Celtics rekindle this championship magic with an aging roster? Time will tell.Q: Where exactly do you think my Celtics will stand next year? Despite losing Game 7 of the NBA Finals by a mere four points and (most) everyone returning, I keep hearing people say the C's are out of gas. Do you believe the Celtics have enough fight in them to finish atop the East, or, better yet, make it to the Finals again?
--Paul, Elk Grove, Calif.
A: It is somewhat unique to see a defending conference champion keep its core together, yet have its own captain lament the lack of impact offseason moves. I think we saw a Celtics team, one short on depth, run out of steam in the NBA Finals, and I think some are simply questioning whether they have the horses to not only get back to the Finals but get over the hump, particularly when you look at how the rest of the Eastern Conference has loaded up thus far.
Those worried about the depth and durability of this team see an aging roster that will enter the season shorthanded by the knee injury to starting center Kendrick Perkins. What's more, the team has done little to fortify its bench (the loss of Tony Allen offset only by the addition of unproven rookies in Avery Bradley and Semih Erden).
The one impact signing -- Jermaine O'Neal with the mid-level exception -- was made with eyes toward filling the void of Perkins as he recovers from ACL surgery, and even when O'Neal slides into a reserve role, some view him as simply a lateral-move replacement for Rasheed Wallace (assuming Wallace retires).
So can the Celtics capture Banner 18 with this team? Of course. This crew came six minutes away from an NBA title last season and that's with an injury-riddled lineup (Perkins suffered the ACL tear in Game 6; Kevin Garnett only started to overcome right knee injuries late in the year; Paul Pierce had several injuries throughout the season; Ray Allen reportedly had a nasty thigh bruise in the Finals; Rajon Rondo battled lower back/glute issues through the latter rounds of the postseason; and Wallace could barely sit on off-days with a balky back during the Eastern Conference finals and NBA Finals). But injuries are a part of the NBA, and no player is 100 percent by the time the Finals around, so the Celtics can't lean on that.
Concerns about the Celtics will only be acquiesced when the regular season tips off in late October. If this team comes out and starts the season 23-5, as it did last year, no one is going to worry about age. In fact, age only became an issue last season when injuries took over and the Green struggled into the new calendar year.
Those worried about Boston's lack of moves thus far should heed the advice of Celtics president of basketball operations Danny Ainge and remember that it's merely "halftime" of the NBA offseason. Because of the team's cap situation, they're almost forced to take a wait-and-see approach as the market plays out from here.
In the end, they'll spice up their roster with a veteran or two who are willing take a discount for a chance at a title. Then let's see what Ainge can do with Wallace (whether it's coaxing him back for another season or trading his contract to fill a need at wing or up front).
But I do think Boston needs to make roster upgrades and add as much depth as possible. When you look at why they fell short of world titles the past two seasons, injuries hindered the team, but so did a lack of depth to offset them.