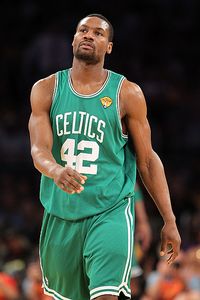 Ronald Martinez/Getty Images
Tony Allen said he felt wanted in Memphis.Former Celtics reserve swingman Tony Allen said it was the aggressiveness with which the Grizzlies courted him that ultimately lured him from Boston to Memphis this offseason.
Nearly two weeks after agreeing to a three-year deal with the Grizzlies, Allen met the Memphis media Friday and hinted it was the fact that he was in the second tier of Boston's offseason concerns that might have convinced him to jump to the Grizzlies.
"Ultimately, it was the way [the Grizzlies] embraced me, the way they reached out to me and let it all out," said Allen. "They let me know I was needed. In Boston, I was kind of overshadowed by those guys -- Paul Pierce and Ray Allen. Here's a ball club that's on the rise and a lot of guys can make names for themselves. It's a coming out party for a lot of guys on this team."
Allen spent his first six years with Boston, which selected him 25th overall in the 2004 draft, but really blossomed in his role as a defensive stopper off the bench last season. It was Allen's lockdown defense against the likes of LeBron James and Kobe Bryant that helped Boston come within a quarter of winning its second title in three years.
But with two of the Celtics' Big Three becoming unrestricted free agents this offseason, Celtics president of basketball operations Danny Ainge admitted that locking up both Pierce and Ray Allen -- along with signing Jermaine O'Neal to bolster Boston's frontcourt with Kendrick Perkins sidelined to start the season -- was the team's top priorities.
With those moves completed, Ainge suggested he was moving on to the next tier that included trying to re-sign both Tony Allen and Nate Robinson. But Allen stunned the team by agreeing to a three-year, $9.7 million deal with Memphis soon after.
Asked earlier this month why things didn't work out with Allen, Ainge said it was a better question for the player.
"Things did work out for Tony, we had a good six years with Tony," said Ainge. "No, I think you'd have to ask Tony that. We wanted Tony back and we tried to get him. It wasn't a financial decision."
Allen earned $2.5 million last season in Boston and seemed in line for a raise given his inspired play late in the regular season and through the playoffs. Ainge has aimed to limit the length of free-agent deals with eyes towards a roster overhaul following the 2011-12 season, leading some to speculate that the Celtics weren't willing to add a third year like the Grizzlies did, particularly for an oft-injured player like Allen.
Allen averaged 7.2 points, 2.6 rebounds, and 1.3 assists per game over his six seasons in Boston. But Allen also missed a total of 156 games, or a staggering 26 games per season, during that time. Only twice did he appear in 75 games or more in a campaign, while missing at least 28 games in each of his other four seasons.
Allen's departure did put Boston's otherwise breezy offseason on tilt. Only Thursday did the team start the process of filling the monster void at backup wing by re-signing Marquis Daniels to a one-year, $2.5 million deal. The team is hoping Daniels can shake off a lackluster 2009-10 season and help fill the defensive void left by Allen.
Meanwhile, Allen suggested Friday that he wants to build on his reputation of being a defensive stopper. He said he relishes the opportunity to be a leader on a young team and will do whatever it takes to make the Grizzlies competitive.
"I don't mind embracing the [defensive] role, but there is more to my game; let's not get that twisted," said Allen. "Whatever I can do to win ballgames -- if that's just passing out Gatorades or flashing towels or giving somebody a high-five, I'm willing to do that."
Click HERE to read more on Allen's Memphis introduction, or hop HERE watch the video of his Q&A.