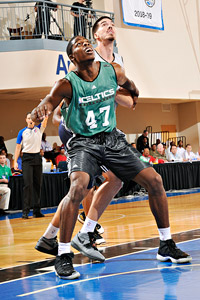 Fernando Medina/NBAE/Getty
DeShawn Sims could be camping with the Boston Celtics in October.Add DeShawn Sims to the youngsters who have been extended invites to Celtics' training camp in October. From the Ann Arbor News:
Former Michigan basketball forward DeShawn Sims is heading to camp.

"I got invited to Celtics training camp," Sims said in a text message Tuesday.

It is the latest stop on Sims' attempt to find a professional home after not being selected in June's two-round NBA Draft.

The 6-foot-8 Sims played on two summer league teams last month -- with Boston in Orlando and then with Dallas in Las Vegas. He played better with the Celtics, averaging 7.5 points and 1.8 rebounds in 13.3 minutes over four games.
Sims showed some nice potential as a wing player in Orlando after spending much of his college career under the basket. Given Boston's current lack of depth at that spot, training with the Celtics could be a nice opportunity for him.
Sims will be vying for a roster spot with summer teammates Oliver Lafayette and Tony Gaffney, a pair with non-guaranteed deals after signing on the final day of the regular season last year. Northeastern's Matt Janning has also been extended a camp invite by the Green, but said at the Las Vegas summer league that he was weighing his options before committing.