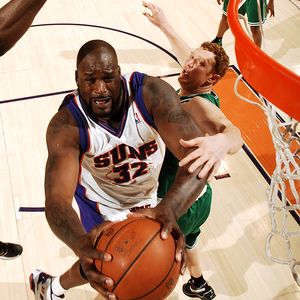 Barry Gossage/NBAE/Getty Images
Brian Scalabrine can envision a Boston roster with both him and Shaquille O'Neal on board for the 2010-11 season.When Brian Scalabrine appeared at a Boston Celtics charity cruise event in late June, he was on the cusp of becoming an unrestricted free agent that had the potential to end his five-year run in green.
But Scalabrine refused to answer questions about the possible end of an era for the local fan favorite until it happened, expressing optimism that he might be back with the team. A month later, as roster spots for next year's team fill up quicker than seats on that boat, Scalabrine remains unwaveringly hopeful that he can find a spot on a Boston team that's put a premium on retaining bodies from last season.
From the Lewiston Sun Journal:
With Perkins out indefinitely due to the long rehabilitation, that might leave room for Scalabrine, a career reserve who has never averaged more than four points per game in green. But the 6-foot-9, 250-pound forward continues to hear the nagging rumors that Boston is interested an another noted wide body, Shaquille O'Neal.

In limbo and awaiting the domino effect, Scalabrine hasn't lost his sense of humor.

"Me and Shaq's games are really quite similar. He's an inside player. I'm an inside player. He's 360. I'm 250," said Scalabrine, the expression on his face hardly changing. "I don't know, if they had to make that choice that there's only going be room for one 360-pound center, I feel like they could do both. They could have me and him."
Scalabrine, visiting northern Maine for an annual appearance at Seeds of Peace international youth camp, continues to reference the Celtics as "we" despite his newfound status as an unrestricted free agent. He even suggested there's a role for both him and Shaq on next year's team.
Scalabrine, who spent his first four seasons with the New Jersey Nets after playing at the University of Southern California, believes he fits into the Celtics' veteran philosophy no matter whom they sign for reinforcements.

"We definitely got older (with the Jermaine O'Neal signing), but probably our team can kind of do that. Doc (Rivers) is probably the one coach that can coach aging superstars," Scalabrine said. "If Shaq signs, he'll fit in well. We've got a lot of young guys like Baby (Glen Davis) that can go 40 minutes if those guys need games off or whatever. It's a different dynamic, but you've got to remember teams are built for the playoffs. The kind of players we have will be built for the playoffs."
While Celtics president of basketball operations Danny Ainge has suggested he wants to add one more big body to the roster, Scalabrine's chances of rejoining the team appear slim at the moment. Boston drafted a player with a similar skill set in Notre Dame's Luke Harangody and, once they ink the second-round pick, will be at 14 players signed for the 2010-11 season.
That would leave one available slot, though the potential retirement of Rasheed Wallace could also offer Boston some additional roster flexibility. The Celtics certainly like Scalabrine's familiarity with the system and the good soldier he's been over five seasons, which will certainly keep him in contention for a job as the roster is capped off.
(h/t: Boston.com)