Not everyone is on board with the Celtics' signing of Shaquille O'Neal. ESPN Boston's Peter May warns fans not to expect too much: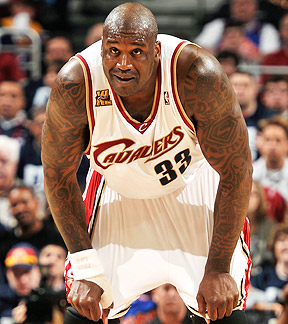 David Liam Kyle/NBAE/Getty Images
Will Shaquille O'Neal match the hype on the court that his signing has generated off it.
This is going to be verrry interesting.

Shaquille O'Neal has devoured a rather large slice of humble pie and is joining the Boston Celtics for the -- ahem -- veteran's minimum of around $1.4 million. Thus, when the 2010-11 season begins, Shaq will make less money than just about every other Celtics veteran, with the exception of Von Wafer.

It has never been this way for Shaq, who throughout his career has been, well, mostly all about Shaq. And all about the money. Yes, he has had supporting roles since leaving the Los Angeles Lakers (some might say that was the case even in his final days as a Laker), but there always was the accompanying, rather-large paycheck that verified his importance and value. That always was important to Shaq. (He is not alone there.) Now, after seeing no team step up for anything more than the $1.4 million he can make due to his many years of service, the question remains: Can he still be effective, happy, productive and a non-distraction with the relative paltry money he will make?

If you are the Celtics, the easy answer is: Who cares? If Shaq does buy into the program, then fine. If he doesn't, the team can cut him at a minimal cost and investment.

It's all on the Big Minimum.
Click HERE to read the full story.