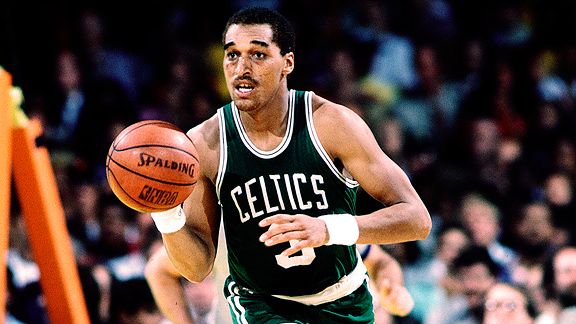 John McDonough/Icon SMI
Dennis Johnson becomes the latest Celtic to enter the Hall of Fame Friday.The late Dennis Johnson's induction into Springfield is the latest proof of a deep Celtics connection to the Basketball Hall of Fame. Will Danny Ainge be next? ESPN Boston's Peter May explains:
The Celtics have always had a proprietary interest in the Basketball Hall of Fame. It may be partially due to geography; the team in Boston is the NBA's closest to the shrine in Springfield. It may be because the Hall and the Celtics' dynasty emerged at nearly the same time, the Hall inducting its first class in 1959 (despite the absence of a physical structure, which would come nine years later) while the Celtics were amassing titles with stunning regularity in the late 1950s and 1960s.

The Hall doesn't make its inductees wear a hat, so to speak, at the enshrinement ceremony. They don't have to choose a team. But if they did, and if Dennis Johnson could come back from the dead for the induction Friday and make his choice, it would almost certainly be as a member of the Celtics. That's how so many remember him and that's how the Hall is promoting his induction, in pictures wearing a Celtics uniform.

The man known as DJ won two titles with the Celtics and was an almost automatic All-Defensive Team selection. But he also won a title with Seattle and was MVP of the NBA Finals in 1979. He was first-team All-NBA with the Suns. But he spent more years in Boston than in either Seattle or Phoenix, not that that really matters. He is remembered as a Celtic. Period.
Click HERE to read the full story.