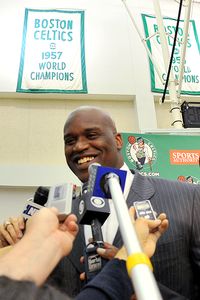 Steve Babineau/NBAE/Getty
Will Shaquille O'Neal live up to expectations in Boston?A few links from Thursday's NBA coverage:
In ESPN.com's Summer Forecast series, our experts predict the best and worst newcomers of the year (any player added to a team this offseason). Shaquille O'Neal (6 votes) lands at No. 3 on the worst list, comfortably behind Amare Stoudemire (18) and Carlos Boozer (11). Here's the blurb on Shaq:

We've been down this road before with the Big Shamrock -- just last year, in fact. It's no secret that the Diesel has been in decline for several seasons and has only a little left to offer on the court. But perhaps the biggest concern is how he'll impact team chemistry in Boston. Can he handle being the fifth wheel or will he wind down his career as the Big Disgruntled?

Click HERE to read the full story

Jermaine O'Neal also earned two votes in the worst newcomer category, but landed outside the Top 10 in vote-getters. Not surprisingly, LeBron James dominated the best newcomer list, grabbing 78 of the 93 total votes.

Miami Dolphins wide receiver Brandon Marshall wants to play in the NBA next season if there's an NFL lockout. He should probably read up on the labor situation facing the hoopsters.

Congrats to Jackie MacMullan, the Curt Gowdy Print Media Award winner at Thursday's Hall of Fame ceremonies. For more on Jackie, read THIS article by the Boston Globe's Bob Ryan. Jackie truly couldn't be a nicer person and her kindness towards this young journalist always meant a lot during my time at both the Globe and ESPN.