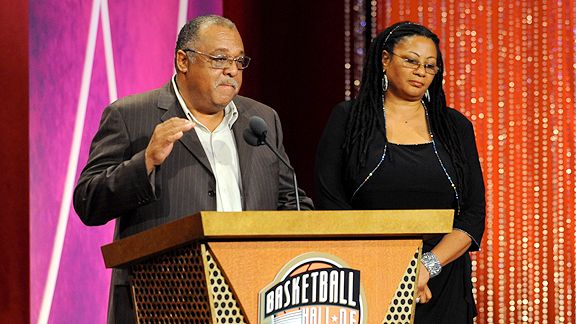 Andrew D. Bernstein/NBAE/Getty Images
Dennis Johnson's brother, Gary, and wife, Donna, talked at his enshrinement Friday night.The late Dennis Johnson was posthumously inducted into the Basketball Hall of Fame on Friday:
Dennis Johnson was posthumously inducted into the Naismith Memorial Basketball Hall of Fame as a member of the Boston Celtics on Friday night in Springfield. Johnson's wife, Donna Johnson, and brother, Gary Johnson, accepted the honor on his behalf, giving thanks to Charles Barkley for repeatedly saying on television over the past several years that it was "shameful" that Johnson was not yet in the Hall.

A video montage was shown at the start of Johnson's presentation, during which Hall of Famers and former Celtics Larry Bird, John Havlicek and Bill Walton spoke. Bird said Johnson was "the best player I've ever played with" during the montage.
Click HERE to read the full story.
You can also check out the full speech on NBA.com, or hop HERE to read more about all of the Hall of Fame inductions.
The rest of Friday's links and info: