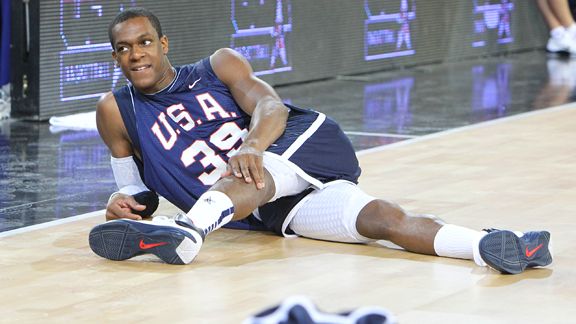 Nathaniel S. Butler/Getty Images
Rajon Rondo stretches at practice in Madrid.After a grueling 15 1/2 hour flight to Spain, Team USA got back to business Tuesday in the next stage of preparations for the 2010 FIBA World Championships in Turkey. The team's official website posted this Q&A with Celtics guard Rajon Rondo following a practice session in Madrid:
What did you guys do on the plane for 16 hours?

We slept and watched movies. A lot of people just slept the whole way.

Aside from Argentina with the 2005 USA under-21 World Championship team, have you done any other international travel?

I've been to Spain before, I went to Barcelona a couple of years back. I think that's pretty much it.

Were you looking forward to coming back to Spain?

Yeah, I feel like I'll get a good welcome back. I think I put on a good performance the last time I was here.

What do you expect from the crowd here this week?

A lot of boos. We're on the road. In the NBA you play a lot of road games. It's not anything we're not accustomed to, so we'll be fine.

Was it good to get out on the court to shake of the cobwebs of the travel day?

Definitely. We got our legs warmed up, got accustomed to the time zone. We're trying to get accustomed to the time changes as quickly as possible.

Are you glad to be in Europe for the final push towards Turkey?

Yes. I'm glad to get over here, get things settled. Just get ready.
Click HERE to read more from USABasketball.com.