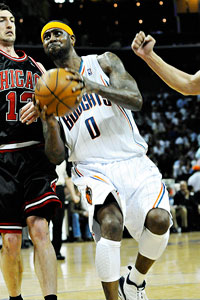 Sam Sharpe/US Presswire
Can we interest you in Larry Hughes?One topic dominated the mailbag this week: Wings.
And while we'd just as soon devote an entire 'bag to thehit 90's sitcom, the McCartney-fronted band, or Buffalo's tastiest treat, readers wanted answers on how the Celtics plan to address the lack of depth behind Paul Pierce and Ray Allen.
It's no secret that Boston covets another wing. On paper, it might be the team's lone remaining weakness after the offseason departure of Tony Allen. Everyone from Celtics president of basketball operations Danny Ainge to head coach Doc Rivers to Pierce has opined over the past seven days that the Celtics need another shooter to cap off the 2010-11 roster.
We tackle the quest for a shooter, Ainge's comments about injured center Kendrick Perkins, and more in this week's offseason 'bag.
Click HERE to read this week's Celtics Mailbag.