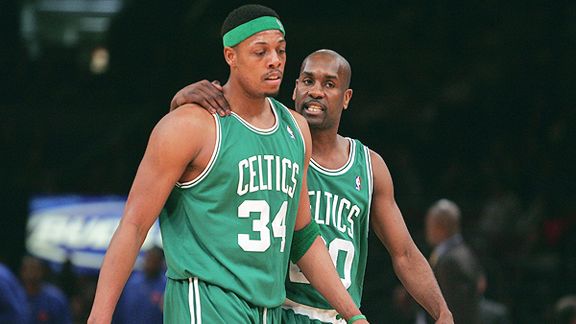 Jim McIsaac/Getty Images
Five years later, Gary Payton still has Paul Pierce's back.Gary Payton won a world title with Dwyane Wade and the Heat while finishing his career in Miami, but even he's not ready to ship this year's Eastern Conference title to South Beach quite yet.
Speaking to Business World during an NBA Legends visit to the Philippines this week, the now 42-year-old Payton (who suggested this summer he's looking to get into coaching in the NBA) said the Heat still have to go through Boston.
"Well, they have three great stars [in Miami]," said Payton. "But like what I've said, you've got to have more than just names. You'll never know what will happen this season. You still have a great team in the Orlando Magic. You have a great team in the Boston Celtics. The Celtics are the defending Eastern Conference champions, so [the Heat] have to go through them. I just want to see what happens [with the Heat], just like everybody else."
Payton played 77 games for Boston during the 2004-05 season (this despite being traded to Atlanta in a deal that brought Antoine Walker back to the Hub; he was later re-signed after being waived by the Hawks).