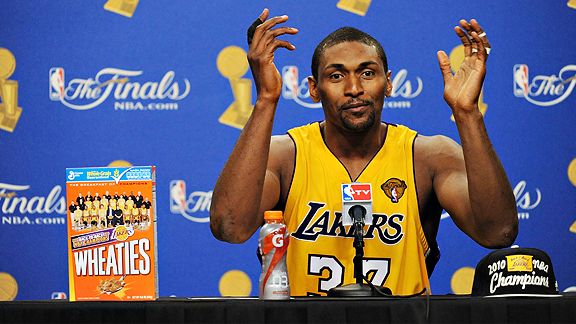 Lisa Blumenfeld/Getty Images
Ron Artest's Game 7 press conference was legen -- wait for it -- dary.In the wake of the Celtics' heart-wrenching loss to the Lakers in Game 7 of the NBA Finals in June, Doc Rivers made a point of saying that Boston's starting five since the arrival of Kevin Garnett and Ray Allen in 2007 still hasn't lost a playoff series. Rivers was referencing the absence of Kendrick Perkins for most of Game 6 and all of Game 7 because of a knee injury.
The Lakers' Ron Artest, never one to shy from the spotlight (as we were reminded in his post-Game 7 press conference) weighed in recently on Twitter. We share his thoughts below, as reported by the Los Angeles Times' Lakers blog:
"Boston lost to Lakers because of Kendrick Perkins injury. What about in 08 when Bynum was injured. What about this year Bynum was injured...

"What about Kobe played with a broke finger...What about Ron artest defense When the Boston staff said Ron artest was too slow...

"Doc got one million excuses...

"The lakers with Bynum in the playoffs healthy has not lost...

"Let's see if my defense is less effective this year...

"So Boston is going to championship right past Miami?"
(Doc and the needle: Just had to chime in to note that, while Lakers supporters were understandably in a lather about Rivers' comments and immediately pointed out how L.A. played without Andrew Bynum during the 2008-09 Finals, it should be noted that Rivers might have ultimately succeeded in his main goal with his comments: Needling Laker Nation. Artest probably should have just laughed it off; Maybe post a TwitPic of a championship ring. Regardless, his Game 7 press conference remains legen -- wait for it -- dary. -- Chris Forsberg)