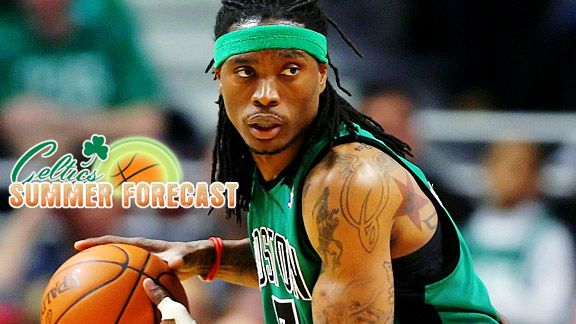 Dennis Wierzbicki/US Presswire
Our panel weighs in on expectations for Marquis Daniels.When the Boston Celtics signed Marquis Daniels last offseason, coach Doc Rivers' cell phone immediately began to light up. Calls flooded in from his coaching brethren, who were downright incredulous that a loaded Boston squad added Daniels -- a player coming off a career year in Indiana -- and did so for a mere $1.9 million, the sum of the bi-annual exception.
"It's amazing when we signed him how many coaches called and said, 'How'd you pull that off?'" Rivers said earlier this year.
The answer soon became evident. Daniels sat out 28 games last season after surgery to repair a torn ligament in his left thumb, the latest ailment in a career often detoured by injuries. Daniels looked a bit hesitant upon returning, and, coupled with a lack of a defined role, soon found himself out of Rivers' rotation for the final part of the year.
When the Celtics re-signed Daniels this offseason at a reasonable $2.4 million -- utilizing Non-Bird Rights to retain their own free agent at 120 percent of his previous value -- Rivers probably fielded a few calls asking why the team would even bother.
Here's why: When able to avoid the injury bug, Daniels is one of the most versatile and productive swingmen in the league. During the 2008-09 season, he averaged a career-high 13.6 points, 3.1 rebounds, 2.1 assists, and 1.1 steals per game in 54 appearances for the Pacers. But can he stay healthy?
Click HERE to read the full story.