With the addition of Delonte West, the Celtics' roster is now maxed out with 15 players under contract for the 2010-11 season. Here's a look at where Boston currently stands: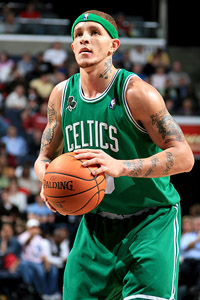 Joe Murphy/NBAE/Getty
Delonte West pushes the Boston roster back to 15 players under contract.
Players signed for 2010-11 (with salary)
Guards: Rajon Rondo ($9.1 million), Ray Allen ($10 million), Avery Bradley ($1.2 million), Nate Robinson ($4.2 million), Von Wafer ($854,389*), Delonte West ($854,389*)
Forwards: Paul Pierce ($13.9 million), Kevin Garnett ($18.8 million), Glen Davis ($3 million), Marquis Daniels ($2.5 million), Luke Harangody ($473,604)
Centers: Kendrick Perkins ($4.6 million), Jermaine O'Neal ($5.9 million), Shaquille O'Neal ($1.4 million), Semih Erden ($473,604)
Free agents from the 2009-10 team
Departed: Tony Allen (Memphis), Shelden Williams (Denver)
Unsigned: Brian Scalabrine, Michael Finley
Other players in the mix
Non-guaranteed contracts: Oliver Lafayette ($762,195), Tony Gaffney ($762,195)
*Note: Wafer signed a one-year deal at the veteran minimum, which is $915,852 for a player with four years experience. The league pays a portion of any veteran signed for one season at the minimum, leaving the team to pick up the salary of a player with two years experience, which is $854,389. Terms of West's deal were not immediately disclosed, but the most Boston could offer is the veteran's minimum, which is $1.07 million for a player with six years experience. If it's a one-year deal, the league would again pay a portion of the contract.
Those 15 contracts put Boston at a rough total of $77.3 million. The one lingering question is how much the Celtics paid Rasheed Wallace as part of his buyout when they waived him (and the $13 million remaining over the final two years of a three-year contract) last month. Wallace intends to retire from basketball. Boston spent in the neighborhood of $84.8 million last season and received a hefty $14.9 million luxury-tax bill (Teams must pay dollar for dollar for everything over the luxury-tax threshold, which remains around $70 million this season.)
Two things left to ponder:
Is Danny done making deals?: After signing West on Wednesday, I asked Celtics president of basketball operations Danny Ainge if he could grade his offseason moves, which included signing an astounding 11 players (only Garnett, Davis, Rondo, and Perkins were previously under contract). He wouldn't bite, hesitant to close the window on his offseason dealings.
"Once we get to training camp, then I'll address all of the offseason things," said Ainge. "We're still in the offseason."
While Ainge has positioned the Celtics well for the 2010-11 season, his bargain signings also offers the Celtics some roster mobility should additional moves need to be made during the season, including if any of these low-risk, high-reward signings don't pan out.
The 15 best players: Asked what the addition of West, seemingly maxing out the Boston roster, meant for Gaffney and Lafayette (and any other camp invitees), Ainge said they were still in the mix for opening-day roster spots.
"They'll have the chance to compete," said Ainge. "We'll keep the best players."
In so many words, Ainge seems to be suggesting that the team is willing to eat a contract (or otherwise maneuver to create space) if a player like Gaffney or Lafayette proves themselves worthy of a spot.