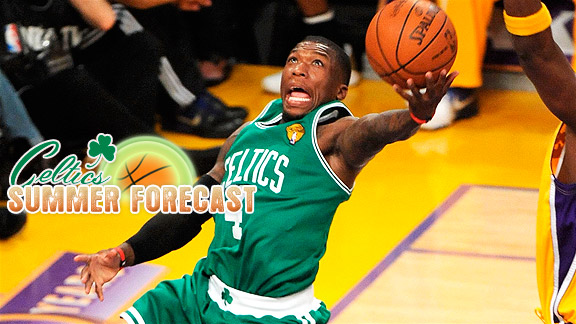 Lisa Blumenfeld/Getty Images
Nate Robinson sent three Celtics packing last year in a deadline-day trade.It's the harsh reality of the NBA: A team's roster rarely looks the same at the start of the season as it does at the end.
Just ask Lester Hudson or Brandon Wallace or Patrick O'Bryant.
With that in mind, we asked our panel of 18 writers from eight of our favorite Celtics blogs to predict which player on the Boston roster is most likely not to survive the 2010-11 season.
With Wednesday's signing of Delonte West, the Celtics boast the maximum of 15 players under contract for next season. The team also has two players with non-guaranteed contracts in Tony Gaffney and Oliver Lafayette.
Despite the lack of roster flexibility, Celtics president of basketball operations Danny Ainge suggested that there will still be competition for spots at camp, with the team apparently open to the idea of eating a contract in order to carry the 15 best players into the regular season.
And even if Boston stands pat through training camp, any moves during the regular season would require a corresponding roster move with the Celtics at max capacity.
So which player will be the first to be traded, cut or retire next season?
Click HERE to read the full story.