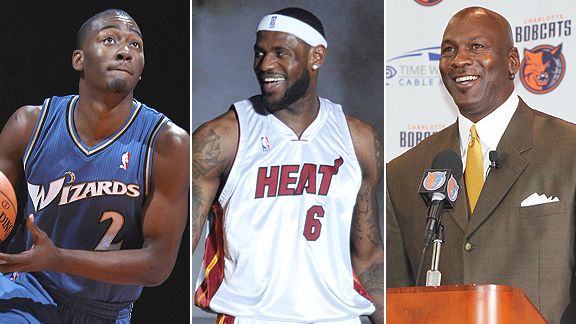 Getty Images, US Presswire, Getty Images
How did the C's do this offseason? Chad Ford grades the East.ESPN.com's Chad Ford checks in with grades for each team in the Eastern Conference

based on offseason maneuvering and Boston lands below the upper crust. From Ford:
Key additions: Paul Pierce (re-signed), Ray Allen (re-signed), Shaquille O'Neal (FA), Jermaine O'Neal (FA), Nate Robinson (re-signed), Avery Bradley (draft)

Key subtractions: Rasheed Wallace, Tony Allen, Tom Thibodeau

After an injury-plagued, so-so regular season, the Celtics got healthy and caught fire in the playoffs -- making their second NBA Finals appearance in the past three seasons. Had Kendrick Perkins not gone down with a season-ending injury, the Celtics may have won the title. The question now: How much gas does this team have left in the tank?

Danny Ainge wrestled with that question. Was it time to blow up the team and rebuild, or should he bring the principals back for another two-year window? Ainge chose the latter. He got Doc Rivers to re-up, and re-signed veterans Pierce (four years, $50 million) and Ray Allen (two years, $20 million) to big deals.

He also brought in two veteran bigs to fill in for Perkins and a retiring Rasheed Wallace. Both Shaquille O'Neal and Jermaine O'Neal's best days are behind them, but Ainge is hoping that together they can help hold down the paint for the next two years.

Did Ainge do the right thing? If the Celtics can make another deep run or two, he probably chose wisely. But if we saw the last gasp of the Celtics this past spring or if the Heat just steamroll everyone this season, then Ainge and the Celtics missed a critical chance to rebuild while they had the cap space to do it.

Grade: B-
Click HERE

to read the full report card.
Ford's top spots went like this: 1. Miami, 2. Washington, 3. Indiana, 4. Chicago, 5. New York. While it's hard to argue against the Heat, we continue to think the moves that Celtics president of basketball operations Danny Ainge made -- particularly given the restraints of the salary cap -- were shrewd and deserve more credit than they might be getting. While it's easy to simply assume the Celtics were going to bring back Pierce and Allen, it's not like either was a slam dunk (OK, maybe Pierce). If those two bolted for greener pastures, Boston's offseason plays out completely different than how it did, particularly in Ainge's ability to lure low-risk, high-reward players like Shaq and Delonte West at the veteran's minimum.
(h/t: CelticsHub)