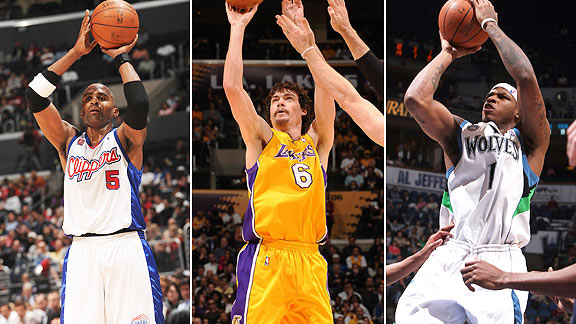 NBAE/Getty Images
(Left to right): Cuttino Mobley, Adam Morrison and Rashad McCants are on Boston's radar.Asked earlier this month to evaluate his offseason haul after signing Delonte West to fill out the Celtics' roster, president of basketball operations Danny Ainge said he preferred to wait until the offseason ended to make such judgments, hinting the team might not be done shaping the roster it will carry into training camp later this month.
The Celtics auditioned a handful of bodies this week at the team's training facility, including familiar NBA names Adam Morrison, Rashad McCants, Cuttino Mobley and Trenton Hassell, a league source confirmed.
News of the workouts was first reported by Yahoo! Sports.
While Boston's roster is maxed out at 15 players signed for the 2010-11 season (and that doesn't include Tony Gaffney and Oliver Lafayette, who boast non-guaranteed deals), Ainge doesn't appear ready to call it a summer, even after signing a whopping 11 contracts this offseason.
The Celtics appear focused on evaluating wing players with potential to provide depth behind Ray Allen and Paul Pierce, as there is some concern with each of the current reserve perimeter players signed for next season in West (10-game suspension), Marquis Daniels (injury history) and Von Wafer (limited game action last season).
Here's a quick glance at the four noteworthy names brought in for evaluation this week.
MorrisonMorrison, the No. 3 overall pick of the Charlotte Bobcats in 2006, has appeared in only 39 games over the past two seasons. But he has two championship rings; only Shaquille O'Neal (four) boasts more titles on the current Boston roster.

The 6-foot-8 forward put together a quality rookie season with Charlotte (11.8 points, 2.9 rebounds, 2.1 assists in 78 appearances, including 23 starts), but has made a mere 10 NBA starts since then, and the Bobcats shipped him and Shannon Brown to the Los Angeles Lakers for Vladimir Radmanovic in February 2009.

Morrison has struggled beyond the arc at the pro level (33.1 percent, including a mere 23.8 percent in 31 games last season), but could be another potential scoring option off the bench should he rekindle the magic he displayed at Gonzaga.

The Celtics were reportedly in attendance for Morrison's workout in Las Vegas in July and Yahoo! suggested Boston had him in town for at least two days this week.

McCantsMcCants might be the most intriguing of the bunch. A former first-round pick in Minnesota (14th overall in 2005), the 6-foot-4 shooting guard appeared on the verge of breaking out in 2007-08 when he averaged 14.9 points per game for the Timberwolves. He fell out of favor quickly in Minnesota, and by the 2009 trade deadline, he had been shipped to the Sacramento Kings (a deal that included former Celtic Shelden Williams). He did not play in the NBA last season.

McCants was profiled this summer in ESPN the Magazine, and his relationship with Kevin Garnett left some wondering if he could find a home in Boston.

A bad reputation seems to leave teams treading cautiously with him. Here's an excerpt from ESPN the Magazine:

In his first two seasons, McCants earned an on-court rep that didn't exactly sync up to the [current] profile either: a quick-trigger shooting guard physical enough to defend small forwards. He bonded with the team's superstar, Kevin Garnett, the two frequently working out together after practice. When McCants awoke from knee surgery in 2006, KG was sitting at the foot of the bed. In 2007-08, under first-year coach Randy Wittman, McCants began to blossom, selected by his peers as a team captain. As Minnesota's second option, he routinely made highlight reels. Future All-Star was what they said. At his season-ending interview, Wittman praised his effort.

Still just 25, McCants, who prepped at the New Hampton School in New Hampshire, would be a player with a lot to prove should he land a camp invite.

MobleyMobley, 35, retired from basketball on Dec. 10, 2008 due to hypertrophic cardiomyopathy (the same heart ailment that afflicted Reggie Lewis and Hank Gathers). He spent 11 NBA seasons with four teams (Houston, Orlando, Sacramento and the Los Angeles Clippers) averaging 16 points, 3.9 rebounds and 2.7 assists per game for his career. The 6-foot-4 guard is a product of the University of Rhode Island and ended his career shortly after being traded to the New York Knicks. He told the New York Daily News recently that he's been given a clean bill of health and wants to resume his basketball career.

"The days of me playing 40 minutes a night are over," Mobley told the Daily News. "But I can play 20 to 25 minutes and I know I can help somebody. I've been playing a lot of basketball. I feel great."

HassellHassell is a 31-year-old swingman who spent the last two-plus seasons with the New Jersey Nets. Last year he averaged 4.5 points, 2.9 rebounds and 1 assist in 52 games (31 starts). He's regarded as a defensive specialist, particularly during four seasons spent with Garnett and the Timberwolves from 2003-2007, where he made 260 of his 426 career starts. During a nine-year career, he's averaged 5.8 points, 2.8 rebounds and 1.8 assists per game.
It's shaping up to be an interesting training camp as Gaffney and Lafayette have already expressed their intentions to go all out in trying to wrestle away a roster spot. If the Celtics invite a few veteran bodies as well, it might only bring out the best in all the roster hopefuls at camp.