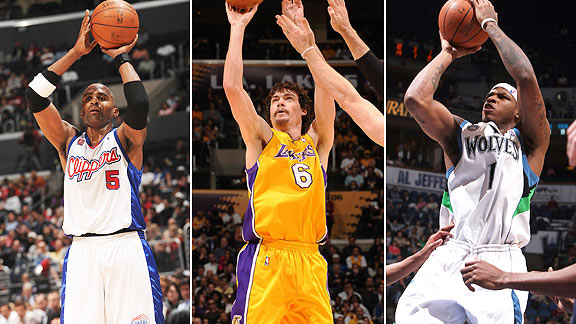 NBAE/Getty Images
(Left to right): Cuttino Mobley, Adam Morrison and Rashad McCants are on Boston's radar.Asked earlier this month to evaluate his offseason haul after signing Delonte West to fill out the Celtics' roster, president of basketball operations Danny Ainge said he preferred to wait until the offseason ended to make such judgments, hinting the team might not be done shaping the roster it will carry into training camp later this month.
The Celtics auditioned a handful of bodies this week at the team's training facility, including familiar NBA names Adam Morrison, Rashad McCants, Cuttino Mobley and Trenton Hassell, a league source confirmed.
News of the workouts was first reported by Yahoo! Sports.
While Boston's roster is maxed out at 15 players signed for the 2010-11 season (and that doesn't include Tony Gaffney and Oliver Lafayette, who boast non-guaranteed deals), Ainge doesn't appear ready to call it a summer, even after signing a whopping 11 contracts this offseason.
The Celtics appear focused on evaluating wing players with potential to provide depth behind Ray Allen and Paul Pierce, as there is some concern with each of the current reserve perimeter players signed for next season in West (10-game suspension), Marquis Daniels (injury history) and Von Wafer (limited game action last season).
Here's a quick glance at the four noteworthy names brought in for evaluation this week.
It's shaping up to be an interesting training camp as Gaffney and Lafayette have already expressed their intentions to go all out in trying to wrestle away a roster spot. If the Celtics invite a few veteran bodies as well, it might only bring out the best in all the roster hopefuls at camp.