Report: Smith excited about C's invite
September, 18, 2010
9/18/10
10:30
AM ET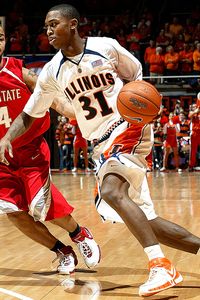 Joe Robbins/Getty ImagesJamar Smith handles the ball while at the University of Illinois
The
Evansville Courier & Press
caught up with former University of Southern Indiana standout Jamar Smith, who was recently
invited to training camp
with the Boston Celtics, and the sharp-shooting guard sounds excited about the opportunity.
"When my agent told me [about the Celtics' invitation], I was, 'Are you serious?'" said Smith. "Now I'm in the gym two or three times a day. My dad called me and asked, 'Are you working hard?' When I said I was, he said, 'Well, you have to work harder.'"

But Smith has always worked hard. That's what helped get him to the level he reached at USI, where he averaged 21.6 points last season, highest on the team, as the Screaming Eagles posted a 24-3 record.

By the time he was finished, Smith had set a USI single-game mark with 10 3-point field goals and the single-season record of 108 3-pointers made. In addition, he set a school career record by averaging 20.2 points in two years.

He subsequently was named first team all-American by Division II Bulletin and an all-American by the Basketball Times, the National Association of Basketball Coaches and Daktronics, and was chosen Division II Player of the Year by Basketball Times.

As for his chances of making the Celtics, Richard Katz, his agent, didn't discount the possibility.

"Anytime you're on a basketball court and in a professional camp and there are 18 players vying for 15 spots, you've got a chance," said Katz. "Jamar has been spending his entire life in a gym getting ready for this opportunity. He'll be ready. I think he's got a chance."
Click
HERE
to read the full story.
PODCASTS
Peter King, NFL
Play Podcast Sports Illustrated's Peter King weighs in on the Patriots' offensive line, the outlook for New England, Jim Harbaugh's relationship with his team and the Cowboys' success.
Opening Rant, 9/30
Play Podcast Colin Cowherd shares his thoughts on the state of the Patriots, New England's offense and Brady Hoke's future at Michigan.
First Take
Play Podcast Skip Bayless & Stephen A. Smith debate if the Patriots dynasty is over, if the 49ers have stopped listen to Jim Harbaugh and more. Plus, they make their World Series predictions.