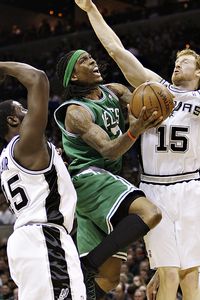 AP Photo/Eric Gay
The Celtics are banking on a bounce-back year from Marquis Daniels.With little more than a week until Celtics training camp opens, we're breaking down Boston's roster from the bottom of the rotation to the top. Today's focus: Marquis Daniels.
Fast Facts
Position: Forward
Vitals: 6-6, 200 lbs.
Experience: 7 years
Last season: 5.6 ppg, 1.9 rpg, 1.3 apg
Salary: $2.4 million
Season Outlook
It's impossible to mention Marquis Daniels in one breath, without health in the next. For a player that has missed 172 total games over seven NBA seasons (nearly 30 percent of his potential action, though some DNPs were surely not health related), it's imperative Daniels remains healthy this season. In fact, the Celtics are downright banking on it at this point.
Behind Paul Pierce, Daniels is essentially the only other true small forward on Boston's roster (not including Tony Gaffney, who could still win a job at camp). An injury to Daniels forces the Celtics to jam a square peg in a round hole by shuffling the likes of Von Wafer or Luke Harangody to the 3 (though Harangody will likely get a chance to show he can handle that spot thanks to a roster log-jam in the frontcourt, particularly once Kendrick Perkins is healthy).
Expectations with the 2010-11 Celtics:: The lack of depth at the small forward position is actually good news for Daniels. No longer will he be asked to be a backup ball-handler, or occupy any other guard task. Unlike last season, there's no mistaking his role and he must concentrate on being the type of wing player we saw in Indiana (the Celtics will gladly take the type of season he produced in 2007-08, when Daniels appeared in a career-high 74 games and averaged 8.2 points, 2.9 rebounds, 1.9 assists, and 1.1 steals over 20.9 minutes per game in a reserve role).
Best-case scenario: For all the tears shed about Tony Allen's departure, it's not unreasonable to think Daniels can fill that exact role. Let's remember that Allen wasn't exactly a beacon of good health, missing 156 games over six seasons, or nearly 32 percent of his total potential action. Allen thrived last year averaging 6.1 points, 2.7 rebounds, 1.3 assists, and 1.1 steals over 16.5 minutes per game. Daniels can easily match those marks, he simply has to show that he can also be the sort of shutdown defender that Allen proved to be. But that's not outlandish either, as he was often pegged as that sort of superstar defender before his thumb injury.
Worst-case scenario: Even the smallest of injuries has potential to derail Daniels' 2010-11 campaign. In order to maintain his confidence, and that of his coach in him, Daniels has to stay on the floor. The trouble there is that he also can't afford to have a scenario like last season, where he attempted to play through the thumb injury and probably only made matters worse (if not in terms of injury severity, at least in confidence). Plus, an injury leaves Boston mighty thin on the wing and likely forces a roster move in order to add depth behind Pierce.
Delivery of Flowers
The Killers frontman Brandon Flowers released his first solo disc entitled, "Flamingo" last Tuesday. We're utilizing song titles (and lyrics) to help break down the player in focus each day. Today's track: "I Came Here to Get Over You"
I came here thinking I could ease the pain / I came in spite of others' good advice
The song's opening lyrics (a bonus track on the deluxe edition) seems perfect to describe how Daniels ended up back in Boston this year. It's clear he needed a fresh start and, by the end of last season, a clean break seemed inevitable. But the Celtics needed a proven wing amidst Allen's departure and Daniels needed to prove that last year wasn't a true reflection on the player he can be.
Daniels will shift to No. 8 this season, a gesture aimed at providing Jermaine O'Neal his familiar No. 7, but also a nice way to make a fresh start in Boston after last season.
I came here thinking sweet, sweet revenge / Bring me some sugar, let the games begin
Daniels isn't exactly seeking revenge, but he's seeking to right some wrongs. For the second straight year, he's also playing in a contract year, which means he's got a vested interest in his own future earnings. Add it all together, sprinkle in good health, and there's reasons to believe this could be Daniels' finest pro season.
I made a lot of bad decisions / But tonight I'm breaking through
Bad decisions or just bad luck, Daniels' NBA career has certainly featured many stops and starts. A healthy Daniels will have every chance to thrive for the Celtics this season.
Rundown Archive