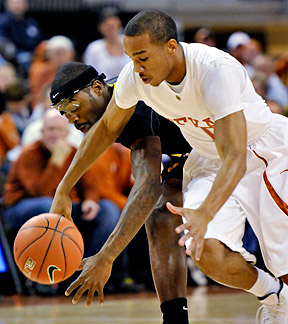 AP Photo/Michael Thomas
The peers of Celtics rookie Avery Bradley believe he has NBA-ready defense.Celtics rookie guard Avery Bradley already has the respect of his peers in this year's NBA freshmen class. That much is evident after those players dubbed him the "best rookie defender" when NBA.com surveyed 40 rookies for first-year superlatives at the annual Rookie Photo Shoot in August.
Bradley reeled in a whopping 41.7 percent of the total vote in the best defense category. Writes NBA.com's John Schuhmann: "It seems right that Celtics are getting the player considered the best defender in the class. Relative to top guys for most of the other categories, Bradley dominated this question."
Bradley also received votes for best career, most overlooked, best shooter, best playmaker, and most athletic (finishing tied for fifth in that category).
Coaches are known to talk up their new players, but maybe Doc Rivers wasn't exaggerating when he gushed about Bradley's NBA-ready defense on draft night.
(h/t: CelticsHub)