Roster Rundown: Mr. Robinson's neighborhood
September, 21, 2010
9/21/10
3:30
PM ET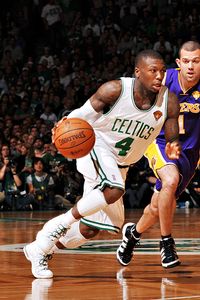 Garrett Ellwood/Getty ImagesThe Celtics are hoping Nate Robinson can be Rajon Rondo's full-time backup at point guard.
With one week until Celtics training camp opens, we're breaking down Boston's roster from the bottom of the rotation to the top. Today's focus:
Nate Robinson
.
Fast Facts
Position
: Guard
Vitals
: 5-9, 180 lbs.
Experience
: 5 years
Last season
: 6.5 ppg, 2 apg, 1.5 rpg (Boston); 10.1 ppg, 2.9 apg, 2 rpg (Total)
Salary
: $4.2 million
Season Outlook
Robinson got thrust into a bit of a difficult situation, asked to learn the Boston offense and settle in as
Rajon Rondo
's primary backup at the point guard position after a five-player swap put him in green at the trade deadline. The Celtics tried to ease the learning curve by letting Robinson run some sets from his time with the Knicks, but a player used to a fire-away mentality (he averaged 11.2 shots per game in 30 contests with New York at the start of the year) seemed conflicted about playing the same way in Boston (he averaged 6 shots per game over 26 appearances with the Celtics).
The irony is that Robinson thrived when he didn't overthink the position and let his natural talents take over (recall the Wizards blowout game in April in which Robinson came off the bench, scored 13 points in seven minutes, and nearly rallied Boston back into the game). That's the type of player Boston needs. Someone who can run the second-unit offense, but isn't afraid to provide the scoring punch the reserves desperately lacked last season. And if that means being selfish, then so be it.
Robinson needs to build off his positive showing in the NBA Finals, where he emerged from the end of the bench to be an integral part of the reserve unit (culminating with the Game 4 exploits that saw the birth of Shrek & Donkey). Robinson looked like a player that had bought into Boston's system -- at both ends of the floor -- and that would provide a nice springboard to the 2010-11 campaign.
Expectations with the 2010-11 Celtics:
: Robinson will get first crack at showing he can hold that backup role behind Rondo, but will also get pushed by the additions of
Delonte West
and rookie
Avery Bradley
, two combo guards with potential to run the offense. The Celtics don't necessarily need the player that averaged 17.2 points and 2.9 assists per game for the 2008-09 Knicks, but they wouldn't be opposed to generating that sort of production with a revamped second unit spreading the wealth around. After all, there's probably not the 13.9 shots Robinson averaged that year available on this team, but his attempts certainly have to rise from 6 per game he averaged last season in Boston. Maybe most importantly, Robinson needs to get back to the rim and convert those close looks. According to HoopData, Robinson averaged 4.1 shots at the rim in 2008-09 (converting 60 percent of those attempts). Last season with Boston? Robinson averaged just 1 shot at the rim per game and converted only 32 percent of those tries, leaving defenses challenging him on the perimeter and rather carefree if he got to the lane.
Best-case scenario
: Robinson has the potential to hit the ground running this season and it's not outlandish to think that he could be the most important bench player for the Celtics (even if most eyes are fixed on the reserve bigs). While Rondo eats up more minutes than just about any other player in the NBA, Boston clearly saw how important it is to preserve his energy after he appeared to be running on fumes by Game 7 of the NBA Finals. A productive Robinson could be exactly what the second unit lacked last season, and would also allow coach Doc Rivers to not rush Rondo back onto the floor.
Worst-case scenario
: While Robinson certainly seemed to figure things out by the Finals, there were four up-and-down months in which he faded to the end of the bench before the postseason even arrived. There's still plenty of work to be done and both West and Bradley are going to want as many minutes as they can earn, which means Robinson can't let up. At a salary of $4.2 million, Robinson is likely to finish the season as the sixth or seventh highest paid player on the team (only the starting 5 and
Jermaine O'Neal
earn more, and Perkins could potentially be leapfrogged by Robinson's incentives). The Celtics are going to want to see returns on that sort of investment.
Delivery of Flowers
The Killers frontman
Brandon Flowers
released his first solo disc entitled, "
Flamingo
" last week. We're utilizing song titles (and lyrics) to help break down the player in focus each day. Today's track: "
Right Behind You
"
It's not particularly fair to suggest Robinson needs to be looking over his shoulder, but the fact of the matter is Boston has options if he stumbles out of the gate. One year after the team was desperate for a serviceable backup point guard, it has three players it will -- or eventually will in the case of Bradley -- feel comfortable utilizing at that spot. Fortunately for Robinson, no player offers more value at that spot than he does.
We've all got reservations / Trials will come suddenly
Robinson learned last year that if he shows any hesitation on either end of the court, Rivers isn't afraid to drop him out of the rotation. Ultimately, Robinson needs to be the player he was in New York. The spotlight is brighter when failure isn't an option, but he needs to balance the ability to run the offense with generating the scoring he's best known for. Rivers stressed from the moment they acquired Robinson that he didn't want to change his game. And it's true, the Celtics don't necessarily need a pass-first backup point guard. They need a player that can either put the ball in the basket, or find a way for the second unit to do that on a consistent basis.
I'm right behind you / In the light of hope
The camp competition might only bring out the best in Robinson, forcing him to elevate his game that much more. Robinson also has one thing working very much in his favor: He's the only proven 3-point option off the bench. Von Wafer has to prove he's a consistent 3-point threat after a yearlong NBA sabbatical, while West thrives more attacking the basket or taking advantage of space in the mid-range game. A revamped second unit could mean lots of quality perimeter looks for Robinson.
Rundown Archive
PODCASTS
Baseball Tonight - Lester Moving?
Play Podcast Buster Olney and Jayson Stark talk about the chances that Jon Lester and David Price will be moved before the deadline. Plus, Roch Kubatko on the Orioles' momentum.
Tedy Bruschi, NFL
Play Podcast ESPN NFL analyst Tedy Bruschi weighs in on the responsibility Tom Brady shoulders for the Patriots, Rob Gronkowski's physicality and how New England will use Darrelle Revis.
Baseball Tonight
Play Podcast Buster Olney talks to Alex Speier, Karl Ravech and Justin Havens about whether the Red Sox will move Jon Lester before the trade deadline, pace of play and much more.