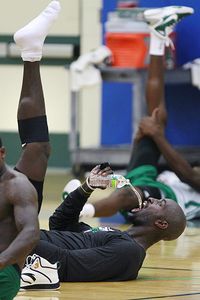 AP Photo/Charles Krupa
Doc Rivers put Kevin Garnett and the Celtics through a three-hour practice to open training camp.NEWPORT, R.I. -- With a three-hour practice session on Sept. 28, Boston Celtics coach Doc Rivers suggested his team had begun preparations for an opponent to be determined on April 15.
There are exactly 200 days between those two dates and, in that span, the Celtics will play 90 games, while mixing in roughly 75 practices. According to Rivers, every moment during that span will be utilized to ensure his team is playing its best possible basketball when the first round of the NBA playoffs begin around Tax Day.
"We view camp as getting prepared for the first game and getting prepared for the playoffs," Rivers said. "The first day of practice is our first playoff practice."
If the Celtics learned anything last season, it's that regular-season success is not a foolproof measure of postseason potential. But don't misinterpret that mindset. Rivers has gone out of his way to stress that Boston won't be satisfied to do what it did last year, playing .500 basketball over the final four months of the season, then flipping a switch while marching to the cusp of an NBA title.
No, the Celtics covet as much regular-season success as they can get this season. And their quest began Tuesday.
"Some of the things [Rivers] stressed [at a team dinner Monday] was that we can't turn it on like we did last year," Celtics forward Kevin Garnett said. "There has to be more consistency, so that's our primary focus, being consistent."
Click HERE to read the full story.
(Quick postscript to this story: If you think the Celtics are jumping the gun a bit to be thinking about the playoffs on what amounts to the first day of the 2010-11 season, remember this poster that hangs in the team's locker room. It's a picture of the Larry O'Brien trophy with the words, "Begin with the end in mind" inscribed below. This team has lofty goals and every decision they make -- including the ones that led to last year's regular-season struggles -- are made with that goal in mind).