NEWPORT, R.I. -- Celtics coach Doc Rivers isn't short on opinions and is refreshingly honest during his daily confabs with the media. Here's some of Rivers thoughts on a variety of offbeat topics he's been asked about this week at training camp: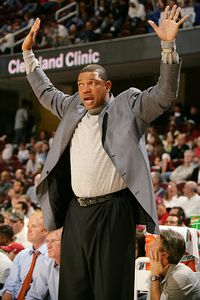 David Liam Kyle/NBAE/Getty
Celtics coach Doc Rivers dabbled in the no-collar, no-tie look, but didn't like it.UP TO CODE
Rivers got a memo from the NBA this offseason on an updated dress code and promptly launched it into the nearest trash basket.
"I saw the dress code and I didn't even look at it," admitted Rivers. "I thought, 'I don't think I'm breaking the dress code, so I'm pretty good with it.'"
Apprised Thursday of the league's new decree requiring collars on coaches, a change directed at Orlando head man Stan Van Gundy and his penchant for turtle necks, Rivers expressed disappointment.
"I like Stan's style," he said. "I really thought Stan had set the bar on the dress code. We should stay with that; It was nice... I actually [wore no collar] a couple times, even tried the collar with no tie, I just didn't like it."
Rivers doesn't think the league needs to regulate any coach's attire.
"I don't think anyone dresses poorly," said Rivers. "I think coaches dress pretty well. That's fine, though. If [the NBA] thinks we need to look different or something, I'm fine with it.
CHECK PLEASE!
The Celtics enjoyed a fancy team dinner in Newport after arriving on Monday night (a picture posted by Von Wafer shows steak and lobster as one menu choice). So with the Dallas Cowboys drawing headlines after rookie Dez Bryant paid a $54,896 tab the same night, Rivers was asked how much Boston's bill came to.
"I don't know, I signed Wyc and just put 25 percent [gratuity]," Rivers said, referencing Celtics co-owner Wyc Grousbeck. "No, I'm serious. I signed Wyc Grousbeck and even gave 25 percent. I figured it was the nice thing to do."
WHAT, ME WORRY?
While admitting his team has a limited window of opportunity and an approaching expiration date, Rivers laughed when asked if he feared a lockout next season.
"Why would I? I'm not going to get locked out," he joked. "Listen, I'm in favor of a four- or five-year lockout with coaches' pay."
Turning serious, he added: "I don't think anyone thinks about that. We gotta play this year. What happens next year could happen next year. Our guys are focused on this year.
"I'm being honest, I buy into it, that we have a window and we have an expiration date. The window is closing; the expiration date is coming. I don't think that's news though, we know that."
THERE'S NO SECRETS
After admitting the Celtics will continue to run the defensive schemes installed during Tom Thibodeau's time in Boston (with minor tweaks), Rivers dismissed the notion that having another head coach in the league that knows Boston's defensive playbook could be detrimental.
"There's no secrets," said Rivers. "If I don't know what every team in the league is running offensively and defensively, then our whole staff sucks. Really, there's too much video. Back when we played, we literally didn't know what the other team was going to do. There was no NBA TV. You went out west and, literally, you hadn't seen the team, other than those reel-to-reel [films], where you watched maybe one half. Sometimes, that was the first time you had ever seen them."