NEWPORT, R.I. -- When Boston Celtics forward Kevin Garnett spoke to the media for the first time since his team's Game 7 loss to the Los Angeles Lakers, the question had to be asked: How's your knee feeling?
"I have a lot more confidence in my leg and my body," Garnett said at Monday's Media Day in Waltham, Mass. "I feel a lot better; I'm eager to start camp."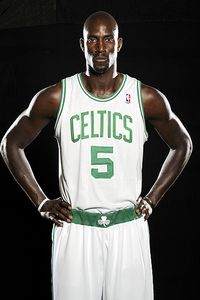 Brian Babineau/NBAE/Getty
Celtics forward Kevin Garnett poses during Media Day.Garnett spoke to reporters three more times during Boston's five days at camp this week and, without fail, the question came up again. Each time, those assigned to the team on a daily basis cringed ever so slightly, waiting for a potential outburst. But Garnett politely fielded all inquiries, including one Saturday as camp wrapped up at the Rodgers Recreation Center on the campus of Salve Regina University.
"It's a new year," said Garnett. "Over the summer, rest is always good. I'm just excited about this year. I'm not really keying on myself, I'm just trying to make the other guys better on this team. I'm revived."
Garnett underwent right knee arthroscopy and removal of posterior knee bone spurs on May 25, 2009. One year, four months and eight days have passed since then, a total of 495 days overall.
In that span, coach Doc Rivers has fielded roughly 495 inquiries about Garnett's health. Indeed, Garnett labored through much of the 2009-10 season, looking particularly unsure of his own abilities after returning from a hyperextension of the same knee earlier this calendar year.
When questions began cropping up on a near daily basis about his health, Garnett quickly declared the topic off limits, feeling there was little he could add. After all, the answer was obvious in watching him play. If a reporter tried to sneak in a knee inquest, it had potential to short-circuit the interview.
But the catchphrase ever since Boston fell six minutes shy of a world title in June has been how much better Garnett will be this year, even further removed from surgery.
So it's no surprise the question returned this fall. But it's safe to assume it won't become a daily topic of conversation. At least not with Garnett.
Click HERE to read the full story.