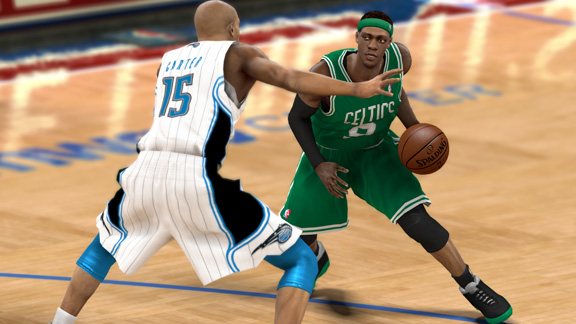 2K Sports
Rajon Rondo says he's learning about NBA history by playing "NBA 2K11."Rajon Rondo talks with ESPN's The Life about the new NBA 2K11 video game that hit stores today:
First time I played "NBA 2K11," I passed the ball to Michael Jordan, crossed-over Danny Ainge, then threw down a tomahawk jam on the Celtic legend/current President of Basketball Operations' head.

"Are you going to dunk on your boss?" I ask Rajon Rondo, the electrifying point guard who emerged as the Celtics leader last season.

"Not unless he trades me in the next 10 days," Rondo replies with a laugh. "I actually wasn't a big NBA fan growing up so to me, this game is cool because it helps me learn about some of these older players. I can play as the Celtics with Danny and Bird, I can play as Jordan and the Bulls and learn about some of their teammates, some of these older players. I've been learning a lot about some of these players back in the day right now just by playing this game.

"This is probably the most realistic basketball game ever," Rondo continues. "I play the series from time to time, but this year you can play as Jordan, you can draft him to any team, play as a bunch of old teams, and re-live the Jordan days in a video game. It's great."

Other than "2K," Rondo tells me he also loves games like "Halo" and "Call of Duty." "If it's not 2K, I'm playing fighting games, shooting games," he says. "We have a lot of gamers on our team. Nate Robinson is always playing video games. Kevin (Garnett) plays a lot, Big Baby plays a lot. We have a lot of guys who play."

Rondo, along with NBA stars Josh Smith, Andre Iguodala, Russell Westbrook, and Derrick Rose, recently shot a series of online ads for "NBA 2K11" that have become huge Web hits thanks to some hilarious one-liners, Rose's knack for cooking, and Rondo silencing the room by showing off his championship ring.

"I've known all the guys for a few years playing against them, so it was fun getting to see another side to them away from the court," says Rondo.
Click HERE to read the full story.