WALTHAM, Mass. -- The Boston Celtics know Von Wafer can shoot.
They actually found that out the hard way back on Jan. 9, 2009, when Wafer came off the bench and drilled a quartet of 3-pointers for the Houston Rockets, including one in the final minute to lift his team to an 89-85 triumph.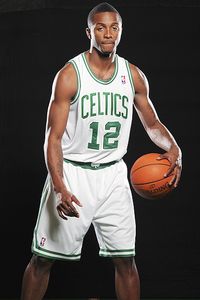 Brian Babineau/NBAE/Getty
Guard Von Wafer poses during Boston's Media Day.It was one of just six losses Boston endured at home that season, so it was somewhat memorable, particularly the way Wafer drilled the shot over Paul Pierce and in front of the Boston bench.
Asked Monday if he recalled the shot, Pierce initially played coy, but couldn't keep a straight face.
"Man, I don't remember too many regular-season games," Pierce said before a smile emerged. "No, I do remember. I was guarding him."
Pierce said Wafer hasn't brought up the shot, noting that he's "probably got 20 shots" over Wafer for his career. But Pierce does like what he's seen from the 6-foot-5 guard, believing he has potential to be an X-factor for this team with his shooting off the bench.
"He's learning the system and it's coming along," said Pierce. "He's picking up things nicely and every day he's getting better. He's a really good shooter and scorer. He's taking it all in stride. It's tough coming to a new system. He's learning day by day."
Celtics coach Doc Rivers suggested Wafer hit more shots in that one game than he has so far during the team's scrimmage time early in the preseason. Unfazed, he has stressed to Wafer to keep shooting as he adapts to his new surroundings.
"He's been up and down, but we told him there's a difference -- there's Celtics speed," said Rivers "It's almost the same speech we gave Nate [Robinson]. There's a Celtics speed and there's the speed that Von is playing at. Give him credit, over the last three days he's really started to come on. He's playing harder, he's starting to get our defense.
"I'm not concerned about his offense. I think he is, because he hasn't made a lot of shots yet. But you know he can. I think he's starting to figure me out. I tell him I could care less about the misses, he can shoot. He's a great shooter, so we're not concerned there."
Click HERE to read the full story.