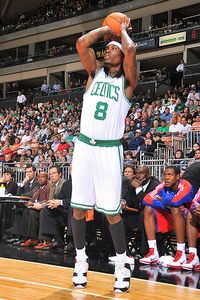 Steve Babineau/NBAE/Getty
A bounceback year from Marquis Daniels would further strengthen Boston's bench. NEWARK, N.J. -- Celtics coach Doc Rivers has favored shorter rotations in recent seasons, not always out of necessity, but out of confidence in his reserves. At times, he simply hasn't had the faith in his role players -- justified or not -- to put them on the floor in crucial spots.
Trouble there has been increased minutes for the veteran players he's leaned heavy on, most notably Boston's Big Three, but even 24-year-old Rajon Rondo felt the effects of not having a true backup point guard last season, with all his minutes potentially sapping some of his energy by the end of the playoffs.
During Wednesday's exhibition opener against the Philadelphia 76ers in Manchester, N.H., Rivers confidently rolled out a complete second unit featuring Delonte West, Nate Robinson, Marquis Daniels, Glen Davis, and Semih Erden. And he didn't just do it because these games don't matter or that Boston built a near 30-point cushion by halftime. Rivers wanted an extended look at what an entire reserve unit can do. And as Paul Pierce, in particular, has preached this preseason, there didn't appear to be a tremendous drop-off in performance.
All of which potentially opens a world of possibilities for Rivers this season, one that he views as a necessity in order for his team to reach its goals.
"It's important that we have a deeper rotation [this season], it's better for the playoffs," Rivers said before Wednesday's game. "Last year, there were times when we had [an] eight[-man rotation] and, in the playoffs, we were almost at seven at times. We'll probably shorten for the playoffs [this year], but to get there, we really need a bench. And we need a great bench. For us to have an honest chance of winning this whole thing, our bench has to be huge during the regular season. They're going to have to win games for us some nights."
The additions of Jermaine O'Neal, Shaquille O'Neal and West, combined with potential for rebound seasons from Daniels and Robinson, and an infusion of rookie talent in Erden, Luke Harangody, and Avery Bradley, has potential to give Rivers a deep enough roster that he might actually have to worry about how to distribute minutes.
It's a good problem to have, even if it's a new one for Rivers.
"I've never had [the luxury of a deep bench], we'd pretty much set it and go," said Rivers. "This year, they'll be a lot of times where we go with different guard lineups. As long as everyone stays healthy."
Therein lies the caveat. Boston's depth is contingent on players like Kendrick Perkins coming back from offseason knee surgery, which pushes the O'Neals into reserve roles. As the preseason starts, Shaq is running with the first team, while Jermaine O'Neal is sidelined by a sore hamstring that, while he says is minor, will force him to miss at least the first two preseason games.
Maintained health is crucial to allowing the bench players to determine roles and build chemistry, which will allow them to thrive.
"Right now it's split, I can't even tell you," Pierce gushed earlier this week when asked who was winning the intrasquad scrimmages. "Some days the second unit is having a great day, you see guys like Nate, Delonte, and Shaq on the second team; some days Marquis and Baby [lead the unit]. They really have some good chemistry going on. I really love our second team, there's something about them.
"I haven't seen a second team like this since I've been in the league. I know when I come in, I'm going to get better each and every day playing against them."