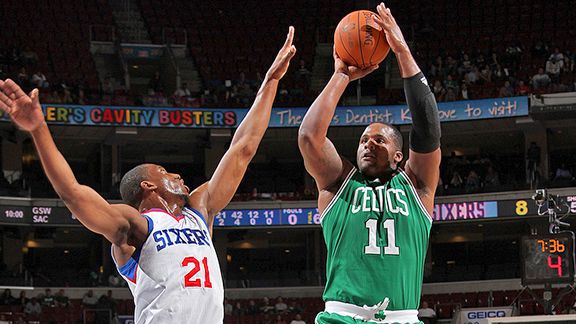 Joe Murphy/NBAE/Getty Images
Despite a solid effort from Glen Davis, the Celtics stumbled in Philadelphia Tuesday.PHILADELPHIA -- First impressions after the Philadelphia 76ers defeated the Boston Celtics 103-92 Tuesday night at the Wells Fargo Center:
HOW THE GAME WAS WON
Marreese Speights scored a team-high 19 points to key a Philadelphia bench that put four players in double figures and rallied from a double-digit second-half deficit to top the second-string Celtics. Even without the starting five the Celtics employed for the first three games of the preseason, Boston still managed to open a 12-point, third-quarter lead leaning on its typical reserves (and even that unit lacked Delonte West, sitting with back spasms). Nate Robinson finished with a game-high 26 points for Boston.
TURNING POINT
Despite an 11-point cushion (61-50) with 4:25 to play in the third quarter, the game quickly slipped away from the C's. The 76ers erased their deficit before quarter's end and a late 3-pointer from Lou Williams gave the hosts a 71-69 advantage heading to the final frame. Philadelphia's 11-0 run midway through the fourth quarter turned a one-possession game into a laugher.
STAT OF THE GAME
Maybe not surprisingly in a game in which Boston's second-half floor lineup often featured three rookies (Semih Erden, Luke Harangody and Avery Bradley) and two roster invites (Stephane Lasme and Mario West) and a guy battling to keep the 15th roster spot (Von Wafer), the Celtics committed 23 turnovers. Regardless, it remains an area of concern for the Green moving forward.
UNSUNG HERO
Rookie Luke Harangody connected on 4 of 5 shots for 11 points over 12 quality minutes. He hit his first three shots and caught fire, at one point forcing Doc Rivers to bring Jermaine O'Neal back from the scorer's table and sub him in later.
WHAT IT MEANS
The Celtics drop to 3-1 on the preseason, but the second unit showed plenty of positives, outplaying Philadelphia's starters for much of the first half. Boston got its starters plenty of rest and should be back with all of its guns (except perhaps Shaquille O'Neal) Wednesday night in New York.