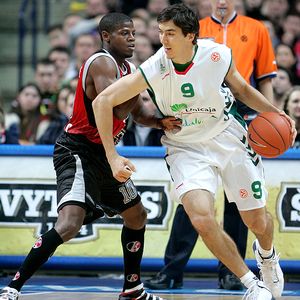 AP Photo/Mindaugas Kulbis
The Celtics had high hopes for Czech Republic star Jiri Welsch, but he played two mediocre seasons in Boston and then was traded. The Celtics have gone 15 years without a significant international player, but it's not for a lack of trying, says Danny Ainge. And now, rookie Semih Erden breaks the trend writes Peter May:
The Celtics aren't quite sure yet what they have in rookie Semih Erden. The early signs, however, are encouraging, which could make the 7-foot Turkish center the first international player of import on the team in the past 15 years.

A few international players have passed through Boston since Dino Radja nearly averaged a 20-10 season in 1995-96. (We are not counting internationals who played collegiately in the United States, such as Vitaly Potapenko, Ramon Rivas or Jerome Moiso.) There was Zan Tabak for 18 games in 1997-98. There was the immortal Bruno Sundov for 26 games in 2002-03. Czech Republic star Jiri Welsch, of whom big things were expected, played two unremarkable seasons (2003-2005) and was traded.

It seems unthinkable that the Celtics have gone so long without a significant international, especially given that the franchise was at the vanguard of signing such players 20 years ago, when it really was the "Wild, Wild, West" overseas. It is much, much cleaner now (although you'd have a hard time convincing Minnesota GM David Kahn, who has labored, unsuccessfully, to get Ricky Rubio to the Timberwolves.)

Celtics president of basketball operations Danny Ainge said the absence of an S.I. (significant international) has not been for a lack of effort or interest.

"We thoroughly scout the entire world and we've been close to getting guys from overseas in the draft before," Ainge said. "There have been a lot of European players we've been close to getting. We've tried to sign some of them as free agents. It just didn't work out."
Click HERE to read the full story.