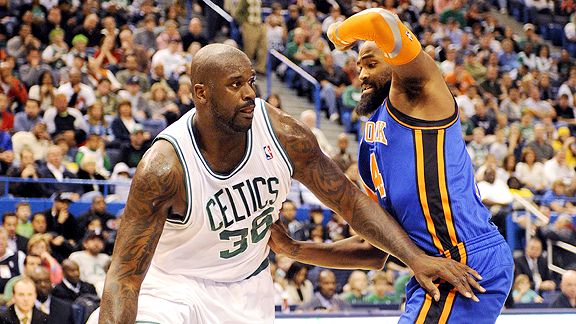 AP Photo/Fred Beckham
Shaquille O'Neal returned to the starting lineup Saturday evening in Hartford.HARTFORD, Conn. -- First impressions after the Boston Celtics defeated the New York Knicks, 97-84, Saturday night at the XL Center:
HOW THE GAME WAS WON
Playing with regular-season intensity, Kevin Garnett poured in a team-high 20 points on 9-of-11 shooting with four rebounds, two steals, a block and an assist over 20 minutes. Paul Pierce kicked in 16 points, while Glen Davis added 15 points and seven rebounds off the bench. Danilo Gallinari scored a team-high 20 points for the Knicks, while Wilson Chandler (17) and Raymond Felton (16) each reached double figures for the visitors.
TURNING POINT
The Celtics trailed by 11 with under five minutes to play in the third quarter, but quickly erased their deficit as the starters polished off their night. Garnett made a 21-foot jumper, stole a pass and fed Rondo for a layup, and -- after a Pierce old-fashioned three-point play -- added a fastbreak layup to make it a one-possession game. Pierce's 3-pointer with 2:47 to go put Boston out front, 69-68, and the Celtics never trailed again, pushing their lead as high as the final spread.
STAT OF THE GAME
Davis was a whopping plus-20 on the night, the team thriving with him on the floor, particularly when mixed with a lineup that featured Garnett and the starters.
WHAT IT MEANS
The road-weary Celtics wrap up a week that featured five games in a seven-day span, including road trips to Philadelphia, New York, and Toronto. Boston won four of those five games, including two nice rallies over the Knicks. Now it's time for some rest Sunday before launching into a practice-heavy week as the regular season and that blockbuster, season-opening matchup against the Heat on Oct. 26.